''Bomb cyclone' batters more than 25 US states



 United States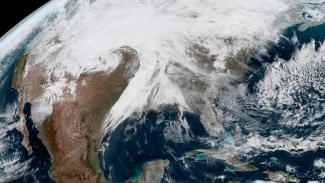 A vast, window-rattling late winter "bomb cyclone" has brought blizzards, high winds, rain and the threat of tornadoes to more than US 25 states, stretching from the northern Rocky Mountains to Texas and beyond.
"This is a very epic cyclone," Greg Carbin, chief of forecast operations for the National Oceanic and Atmospheric Administration's Weather Prediction Center, said.
"We're looking at something that will go down in the history books."
It could develop into the worst storm of its type in 35 or 40 years, he said.
Watches, warnings and advisories for the storm cover about 3.8 million square kilometres, which is roughly half of the area of the continental US - and they stretch from the Mexican border to the Canadian border.
A bomb cyclone happens when there's a rapid pressure drop, with a decrease of at least 24 millibars (which measures atmospheric pressure) over 24 hours known as bombogenesis.
This storm has dropped 27 millibars since yesterday morning and continues to strengthen.
The current pressure in the storm is equivalent to what you would typically find in a Category 1 hurricane, CNN Meteorologist Brandon Miller said.
Blowing snow forced major highways to close in Colorado, Nebraska, South Dakota and Wyoming, and about 1000 flights were cancelled at the Denver airport.
A wind gust of 148km/h was recorded in the mountains north-west of Denver.