Bomb Cyclone Storm Dennis Could Rival Some of the Most Intense North Atlantic Storms on Record
Reykjavík
Denmark
Sweden
Northern Ireland
Scotland
France
Germany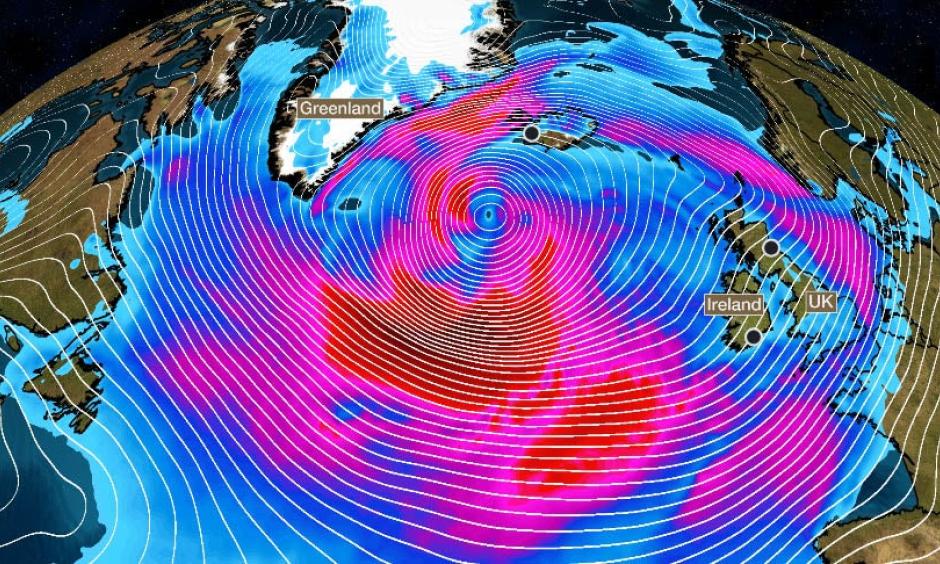 Climate Signals Summary: Bomb cyclones are rapidly developing low pressure systems that are primarily fueled by the contrast between warm and cold air masses. Climate change is linked to unusual jet stream behavior as well as many other factors that can affect storm activity and increase storm intensity, including with bomb cyclones, as was seen in the Central Plains in March of 2019.
---
Article Excerpt: A new powerful storm will combine with another intense storm currently pounding Iceland and take aim at northwestern Europe this weekend, just days after Storm Ciara pounded several countries with high winds and torrential rain and killed at least eight people.
Right now, an intense storm is currently battering Iceland with high winds while Storm Dennis, named by the U.K. Met Office, is quickly developing over the North Atlantic Ocean east of Newfoundland.
...
This storm currently battering Iceland became a bomb cyclone, with a pressure drop of 67 millibars in 48 hours from an area of low pressure off Nova Scotia just after midnight EST Wednesday morning to a 929 millibar beast near Iceland early Friday morning, according to analyses from NOAA's Ocean Prediction Center.
Computer forecast models predict the storm behind it east of Newfoundland, named Storm Dennis, will also become a bomb cyclone as it moves across the North Atlantic Ocean through Saturday.
A bomb cyclone is a term used when a low-pressure system undergoes bombogenesis, meaning its central pressure drops by at least 24 millibars within 24 hours, a sign of rapid strengthening.
Forecast guidance suggests the central pressure of Storm Dennis will likely drop below 930 millibars when it's south of Iceland by Friday or Saturday. The lower the pressure, the more intense the storm, increasing the likelihood of strong winds.
...
If this extreme solution verifies, Dennis would rank as one of the most intense North Atlantic storms on record, according to Weather Underground weather historian Christopher Burt and British weather historian Stephen Burt.
...
In general, Dennis's wind impacts are not expected to be as extreme as Storm Ciara, but widespread strong winds and heavy rain are still expected in the United Kingdom and other parts of Europe, according to the U.K. Met Office.
"With Dennis, the rainfall is going to be heavy and more widespread, so there's a greater risk of more widespread flood problems this weekend," Alex Deakin of the U.K. Met office said in a briefing Thursday.