Boulder scientist ties severity of Colorado's 2013 flood to climate change



 United States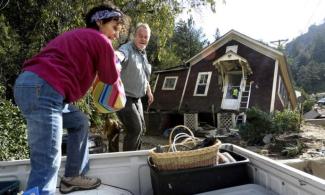 The severe effects of the flooding across Colorado's northern Front Range in September 2013 and other recent extreme weather events likely were enhanced by human-caused global warming, according to a paper published Monday on which a Boulder scientist is the lead author.
Severe storm events always have formed, and will continue to do so, out of the natural chaos of global weather.
But the argument advanced by Kevin Trenberth, distinguished senior scientist at the National Center for Atmospheric Research, and his colleagues, is that human-caused global warming is now exacerbating such storms' impacts.
The paper, titled "Attribution of Climate Extreme Events," published Monday in the journal Nature Climate Change, offers the September 2013 flood — as well as Superstorm Sandy, on the East Coast of the U.S. in October 2012, and Super Typhoon Haiyan, which devastated the Philippines in November 2013 — as examples supporting the scientists' arguments.