Publication Date August 5, 2016

A Carmel Valley vineyard manager defends his grapes against the Big Sur fire



 United States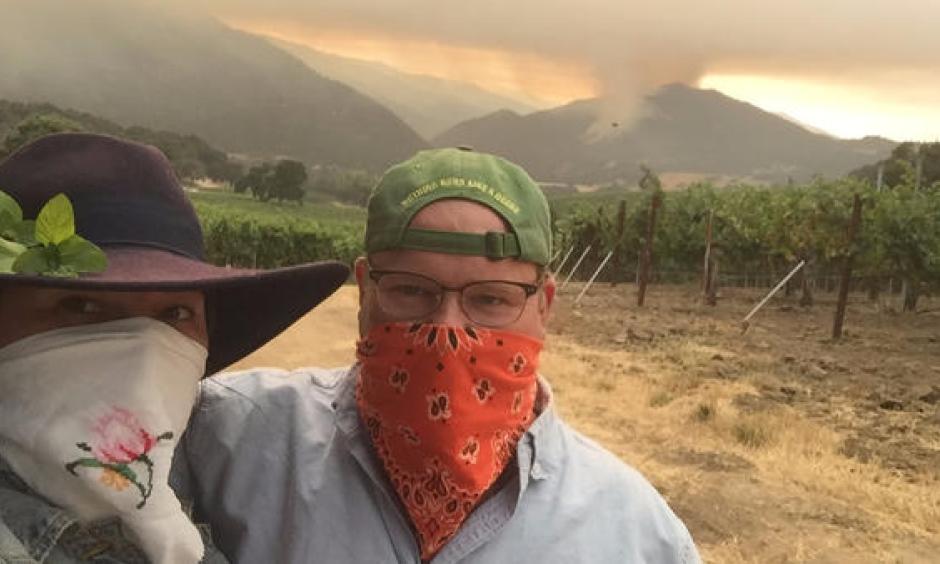 The fire, near Big Sur, has been burning since July 22. So far, 51,000 acres, mostly wilderness, have been consumed. Dozens of homes have burned down, and a bulldozer operator died after his vehicle overturned in steep terrain as he cleared brush. Last week, the estate vineyard for Big Sur Winery burned down; its owner, Lenora Carey, also lost her home.
State fire officials say they do not expect to have the fire contained until Aug. 31.
By that time, the Cabernet Sauvignon, Cabernet Franc, Merlot and Malbec grapes growing next to us in Shea's Marinus Vineyards will have changed colors, from green to purple. But right now, the fruit is going through that transition; this is the moment the grapes become vulnerable to a winemaker's scourge called "smoke taint."
In 2008, after the Basin Complex fire, which consumed 162,000 acres and bathed Carmel Valley in smoke for weeks, Shea unwittingly harvested tainted grapes.
"We couldn't taste it until after fermentation," he said. "It was aging in barrels when the flavor started to develop."
The taste was distinct.
...
If his grapes sustain smoke damage, he said, he may have sell it to bottlers who will blend it with less expensive wine until the smell disappears. The thought of his estate wine — "such a pure expression of the terroir out here" — ending up as a $20 blend at Costco is distressing.
But like any grower, he knows he is at the mercy of forces beyond his control. Dozens of Monterey County wineries could eventually be affected by the smoke