Category 5 Irma the 5th Strongest Atlantic Hurricane on Record
by
Category 6 | Weather Underground
,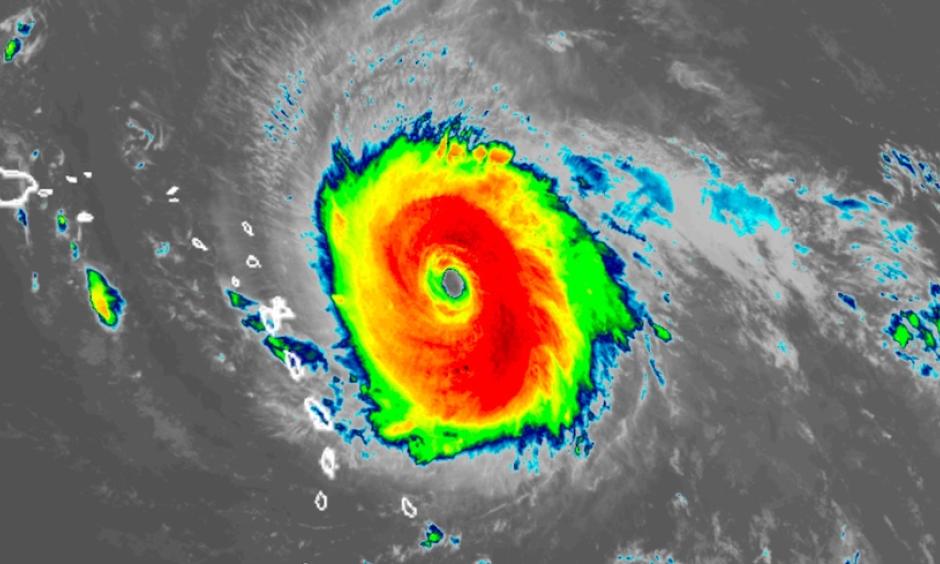 Hurricane Irma intensified into an extremely dangerous high-end Category 5 storm with top sustained winds of 180 mph on Tuesday morning, putting it among the strongest Atlantic hurricanes ever observed. Irma's winds are the most powerful ever measured in an Atlantic hurricane north of the Caribbean and east of the Gulf of Mexico. Measurements from Hurricane Hunter aircraft found peak winds of close to 180 mph, well above the 157-mph threshold for Category 5 strength. At 11:07 am EDT, a dropsonde in Irma's eye measured a central pressure of 927 millibars, 4 mb lower than the previous pass, so Irma is still strengthening.
...
Satellite images on Tuesday morning showed a spectacular hurricane with a large eye surrounded by extremely intense eyewall thunderstorms with very cold cloud tops, indicating that they extended high into the atmosphere. Irma had excellent upper-level outflow on all sides. Conditions were favorable for even more strengthening, with wind shear a low 5 – 10 knots. Sea surface temperatures (SSTs) were a very warm 29.5°C (85°F), and the total heat content of the ocean was a high 60 kilojoules per square centimeter, giving the storm plenty of heat energy to fuel intensification. The surrounding atmosphere has been steadily moistening, as seen on precipitable water imagery, with a mid-level relative humidity near 55%, according to the 12Z Tuesday analysis from the SHIPS model. The eye of Irma was just beginning to be seen on Martinique radar.
According to Dr. Phil Klotzbach, Irma is tied with Rita (2005) and Mitch (1998) as the fifth strongest hurricane in Atlantic records going back to 1851, based on maximum wind speed. Irma is the first Atlantic hurricane outside of the Caribbean and Gulf of Mexico known to attain 180-mph sustained surface winds. The lowest central pressure measured outside the Caribbean and Gulf was 919 mb in Hurricane Gloria (1985), versus Irma's most recent central pressure of 927 mb, but Irma could end up breaking this record as well. The highest winds of any Atlantic hurricane are 190 mph, set by Hurricane Allen (1980), and Irma may approach that record.