Last updated December 21, 2019

A city in Pakistan may have just endured the hottest April temperature ever observed on Earth



 Pakistan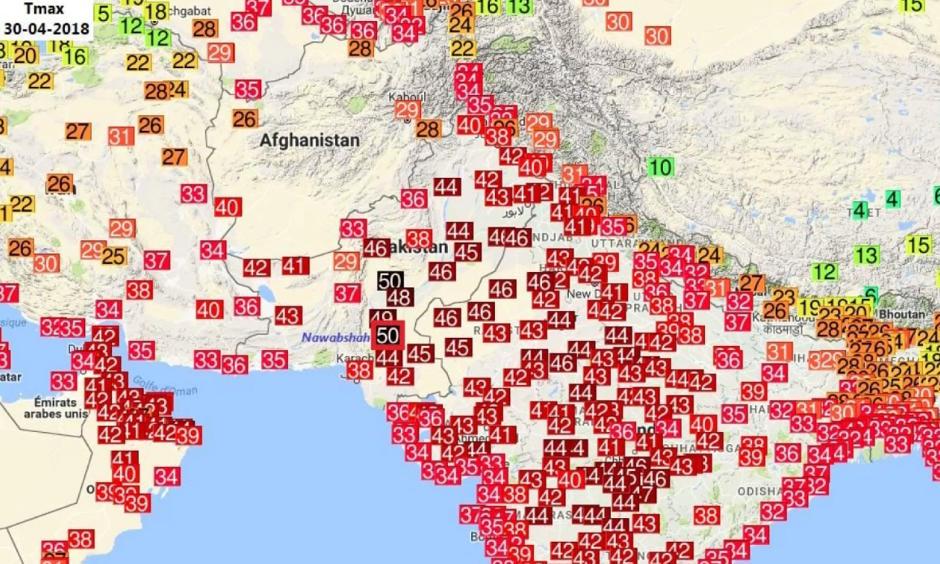 On Monday, a city in the southern part of Pakistan soared to 122.4 degrees (50.2 Celsius). This might just be the highest temperature ever reliably measured on the planet during April.
The temperature was observed in the city of Nawabshah, which has a population of 1.1 million and is about 120 miles from the Indian Ocean.
...
This is the second straight month in which Nawabshah has set a new monthly temperature record for Pakistan. In late March, a heat wave pushed the temperature there to a national record of 113.9 degrees for the month. Several other countries in Asia also established March record highs during the hot spell from the 29th to the 31st.
April's heat wave, coming just 30 days later, resulted from a sprawling heat dome centered over the northern Indian Ocean.
...
The record-setting 122.4 degree reading in Nawabshah adds to a long list of international hot weather extremes since 2017, which includes Spain's and Iran's highest temperatures ever recorded last summer. In May 2017, the western town of Turbat in Pakistan hit 128.3 degrees, tying the all-time highest temperature in that country and the world-record temperature for that month, Weather Underground's Jeff Masters reported.
As concentrations of heat-trapping gases continue to build in the atmosphere due to human activity, the expectation is for an increase in the intensity, frequency and duration of hot weather.