Colorado drought worsens as report says climate change causing higher temps in Southwest



 Colorado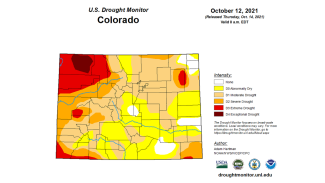 Climate Signals summary: Drought conditions are continuing to worsen in Colorado, as human-caused caused climate change causes hotter and drier conditions to persist.
---
Article excerpt: Drought continues to spread back across Colorado after a dry summer and start to fall, with nearly all the state at least abnormally dry just three months after more than half the state was drought-free.
The increasing drought comes as the National Oceanic and Atmospheric Administration released a report late last month from a task force that found the Southwest drought that has persisted since last year would not have been as intense had it not been for human-caused global warming causing higher temperatures from January 2020 through August 2021.
The task force, which included Colorado scientists, found the Southwest will continue to get hotter unless serious action is taken to address climate change and that even in years where there is a normal snowpack, higher temperatures could melt the snow faster and lead to more evaporation and thus more drought.

You can find the full story by ABC 7 Denver here: https://www.thedenverchannel.com/news/local-news/colorado-drought-worsens-as-report-says-climate-change-causing-higher-temps-in-southwest