December 2017 La Niña update: Double, double
,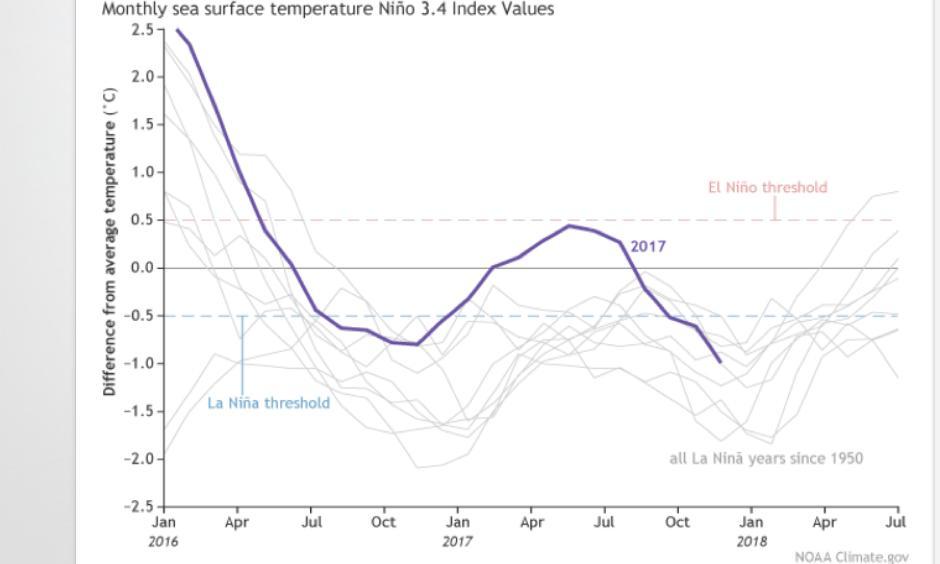 Our second La Niña year in a row is in full swing now, and is forecast to last through the winter. In November, the average surface water temperature in the Niño3.4 region of the central Pacific Ocean was about 1.0°C cooler than the long-term average. A "double-dip" La Niña is not uncommon—seven La Niña winters in the 1950-present historical record followed La Niña the previous winter: 1955, 1971, 1974, 1984, 1999, 2008, and 2011. In fact, two years, 1975 and 2000, were third-year La Niñas. Only four years, 1964, 1988, 1995, and 2005, were single-year La Niñas.
This graph illustrates something interesting about our current La Niña. During multi-year La Niñas, the surface temperature in the Niño3.4 region often moves closer to average after the first winter, before cooling again to get back into La Niña territory for the second winter. However, this is the first time on record the surface temperature has been warmer than average for a period before returning to La Niña conditions.
...
Toil and trouble?
La Niña is expected to affect global weather patterns this winter. As I mentioned above, the stronger Walker Circulation means there is more convection (rising air, clouds, and storms) over Indonesia and the far western Pacific, and even less than average over the central Pacific.
In addition, warm air that rises along the equator travels toward the poles and descends in the mid-latitudes, in a pattern called the Hadley Circulation; the descending air fuels the subtropical jet stream. During La Niña, with more convection in the far west Pacific and less in the central Pacific, the subtropical jet stream is retracted to the west. The retracted jet means fewer storms reach the west coast of the United States, tending to leave the southern tier of the country warm and dry. For more details on how La Niña affects the circulation, check out Tom's great post.