Denver's scorching hot weather on Thursday tied an all-time record, a roasting 105



 United States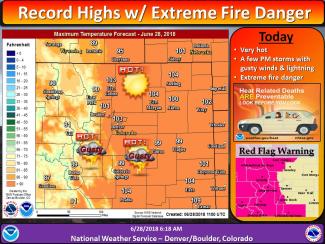 Denver's temperature soared to 105 degrees at 2:20 p.m. Thursday, tying the highest temperature recorded in the city for any day, according to the National Weather Service. The big 105 was first reached in Denver on Aug. 8, 1878, and then returned for encores on July 20, 2005, and June 25 and 26, 2012.
"It's the fifth time we've hit that!" said Kyle Fredin, a meteorologist and spokesman for the weather service.
The previous record-high temperature for Denver on June 28 — a chilly 99 degrees, set in 1986 — was smashed at 11:31 a.m. Thursday, when the temperature entered triple digits — 100. The soaring heat, however, was hardly done for the day.
...
Elsewhere in Colorado, Thursday's high temperatures were even hotter. In the southeast part of the state, the mercury topped 105 in several areas. Lamar was Colorado's hot spot, hitting 109 degrees. The unseasonably sizzling weather raised wild land fire dangers to extremes.