Dozens dead in Japan from record-setting, long duration extreme heat event



 Japan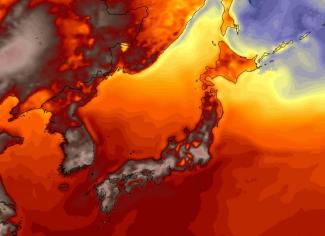 From torrential rain to punishing heat, devastating weather conditions have afflicted Japan for much of July.
Early in the month, more than 200 people died in its worst flood in decades, spurred by up to 70 inches of rain. Since then, dozens more have perished from an extended period of scorching heat, which has shattered records throughout the country.
Kyodo News reports the death toll from heat has risen above 30 since July 9. On Thursday alone, 10 people died and 2,605 people were hospitalized in the sweltering conditions, the Japan Times wrote.
Sayaka Mori, a meteorologist for the broadcasting service NHK World-Japan tweeted that mercury climbed as high as 105.3 degrees (40.7 Celsius), the highest in five years and just 0.5 degrees (0.3 Celsius) off the national record.
The city of Kyoto saw its temperature soar to 103.6 degrees (39.8 Celsius) Thursday, matching its highest temperature ever recorded (on August 8, 1994). To its south, Yamaguchi hit 101.7 degrees (38.7 Celsius), topping its previous highest temperature of 101.1 degrees (38.4 Celsius).
...
Japan joins many other locations in the Northern Hemisphere that have seen some of their hottest weather ever recorded.