Drought covers just 17% of California, down from 73% three months ago



 United States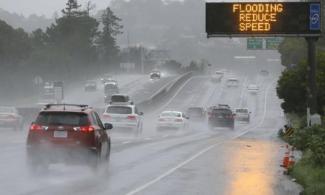 Relentless rain and snow in California continues to eat away at the state's five-year drought, federal experts said Thursday.
Only 17% of the state remains in a drought — primarily in Southern California — the lowest percentage since 2011, according to this week's U.S. Drought Monitor. For the first time since 2013, none of the state is listed in "extreme" drought.
The new numbers represent a drastic decrease. Three months ago, drought covered 73% of California. One year ago, that number was 95%.
The drought endures in southern parts of the state, primarily in Ventura, Imperial and Santa Barbara counties, despite a deluge of precipitation from a storm last week.
"Even though the reservoirs were responding quite favorably, they still have a long way to go before we can classify this area as drought-free," said meteorologist Richard Heim, the author of this week's monitor.
In northern California, the drought's demise came at a cost, with widespread flooding and mudslides after multiple storms pounded the area. A large swath of the northern and central Sierra has recorded twice as much precipitation as usual this winter. Heavy precipitation that lasted for days continued to improve vital mountain snowpack, but also caused disastrous flooding, Heim said.
The stormy onslaught may be coming to an end, at least for now. Rain and snow forecast for Sunday and Monday could be the last significant storm through the middle of March, said AccuWeather meteorologist Alex Sosnowski.
Meanwhile, parts of the Deep South and New England are experiencing extreme drought conditions, according to the Drought Monitor.
The amount of water flowing through streams is at near-record to record-low levels from northeast Alabama to the western Carolinas, the monitor reported. In New England, all of Connecticut and Rhode Island and almost the entire state of Massachusetts are in a drought.