Drought Is Over, But Wildfire Risk Remains
,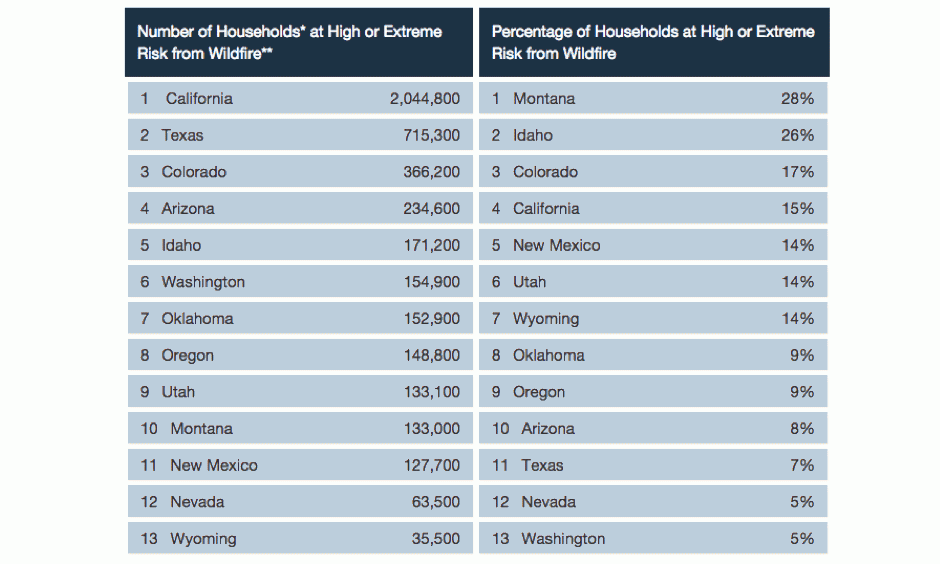 Despite above-average precipitation and diminished drought conditions in California and other parts of the West, a new analysis shows that the risk of wildfire losses remains significant, with 4.5 million U.S. homes at high or extreme risk of wildfire.
The data from Verisk Insurance Solution was published in the company's 2017 FireLine State Risk Reports, which summarize wildfire risk in 13 wildfire-prone states. Key findings from the analysis include:
More than 2 million households in California are at high or extreme risk of wildfire, the highest in the U.S.
Texas ranks second with 715,300 homes at high or extreme risk of wildfire.
Montana (28%) and Idaho (26%) have the highest percentage of households at high or extreme risk of wildfire.
Seven states have 13 percent or more of households at high or extreme risk of wildfire.
"Wildfires have scorched nearly 3.5 million acres so far in 2017, according to the National Interagency Fire Center," says Arindam Samanta, director of product management and innovation for Verisk Insurance Solutions. "For the first half of 2017, the number of acres burned by wildfires is up 34 percent over 2016 and the ten-year average."
Verisk conducted the wildfire risk analysis using FireLine, its wildfire risk management tool. FireLine uses advanced remote sensing, machine learning, and digital mapping technology to determine the impact of three factors that contribute to wildfire risk: fuel, which refers to the vegetation surrounding the property; slope, or grade of the land; and site-access, identifying potential challenges to reach properties via roads or other pathways for fire suppression activities during wildfires.
"Wildfires have generated more than $5.1 billion in insured losses in the last decade-with $3 billion alone in just the past five years. These fires represent one of the leading catastrophe exposures facing the industry today," says Samanta. "The ability to accurately identify the true wildfire exposure is critical to maintaining cost-based pricing. It also allows insurers that may have avoided the marketplace to explore expanding their book of business in these hazard areas."