The European heat wave bears the fingerprint of climate change



 France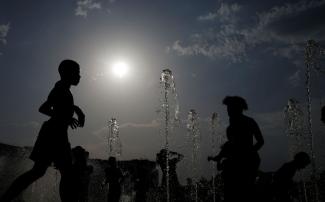 The extraordinary heat wave that is gradually relinquishing its hold on Western Europe will enter the history books as one of the most intense such extreme events on record. The benchmarks it set in countries such as the United Kingdom, Belgium, Germany and the Netherlands are extraordinary.
To climate scientists, they're also part of a disturbing pattern that's likely to be repeated more often.
Researchers say that what is important to look at is not how many records were toppled. It's by how much they were broken, or in this case, obliterated, that matters. Usually when a new all-time temperature record is set, it beats the old one by a few tenths of a degree. But not this time.
This heat wave featured multiple all-time records that were broken by several degrees.
...
Heat of this magnitude is impressive. But a heat wave demolishing records by such an obscene margin over such a large area? Virtually unprecedented. "Some of these records were not beaten by a small increment," wrote J. Marshall Shepherd, director of the University of Georgia's atmospheric sciences program, in an email. "They established an entirely new baseline."
...
Even a seemingly small shift in the global average temperature can spur disproportionately large changes in the likelihood and intensity of temperature extremes. Our heat-trapping emissions are doing it in two ways: by altering both the mean and variance of temperatures.
...
"The verdict is in: Increasing greenhouse gas concentrations due to human activity — by raising average temperatures — have loaded the dice toward more frequent record breaking heat extremes (like this event)," wrote Radley Horton, a climate researcher at Columbia University, in an email. "But the magnitude with which all-time records are being broken — [four degrees] for Paris — suggests an accomplice. Specifically, human-driven increases in the variability of our day-to-day weather."