Extreme Hurricane Irma closing in on Florida, posing dire threat



 United States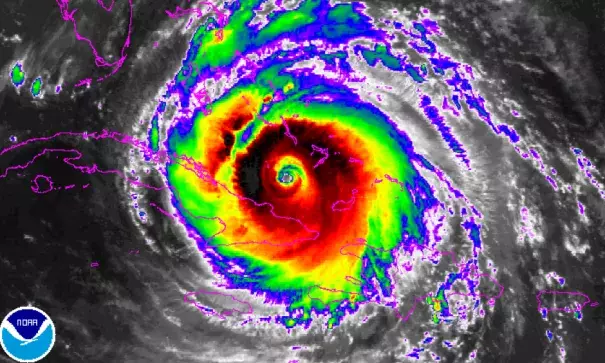 On Friday morning, Irma was passing between the Central Bahamas and the north coast of Cuba as an extremely dangerous Category 4 storm with peak winds of 150 mph. Through Thursday night it had produced Category-5 winds (157 mph+) for two and a half days. The storm was chugging along at 14 mph toward the west-northwest, 405 miles southeast of Miami.
...
Irma's peak intensity (185 mph) ranks among the strongest in recorded history, exceeding the likes of Katrina, Andrew and Camille — whose winds peaked at 175 mph.
Among the most intense storms on record, it trails only Hurricane Allen in 1980, which had winds of 190 mph. It is tied for second-most intense with Hurricane Wilma in 2005, Hurricane Gilbert in 1988 and the 1935 Florida Keys hurricane.
The storm maintained maximum wind speeds of at least 180 mph for 37 hours, longer than storm on Earth on record, passing Super Typhoon Haiyan, the previous recordholder (24 hours).
Late Tuesday, its pressure dropped to 914 millibars (the lower the pressure, the stronger the storm), ranking as the lowest of any storm on record outside the Caribbean and Gulf of Mexico in the Atlantic basin.
The storm has generated the most "accumulated cyclone energy," a measure of a storm's duration and intensity, of any hurricane on record.