February 2018 La Niña update: tuned in



 United States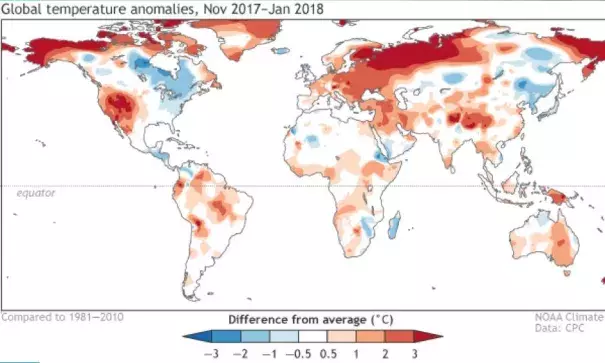 Sea shanties
During January, the sea surface temperature in the Niño3.4 region of the tropical Pacific—our primary measurement for ENSO's ocean component—was close to 1.0°C cooler than the long-term average. This places it comfortably in La Niña territory.
The November–January temperature in the Niño3.4 region was also 1.0°C cooler than the long-term average. Our double-dip La Niña's second year has been stronger than the first, as the greatest departure from average during 2016–17 was -0.7°C. As Nat showed in his excellent post last week, this is somewhat unusual for a double-dip La Niña, as the second year tends to be a bit weaker than the first. However, as he discussed, the impacts on North American temperature and precipitation tend to be stronger in La Niña's second year… if you haven't read Nat's post, go do it now! I'll wait.
Carrying the tune
The atmosphere continues to respond to the cooler-than-average surface waters in the tropical Pacific, showing all the signs of a strengthened Walker Circulation. Those cooler-than-average waters lead to less rising air and cloud formation in the central Pacific than average, with more rising air and storms forming over the far western Pacific and Indonesia.
...
La Niña's global effects on temperature have historically been associated with cooler temperatures in Australia, southern Africa, and much of South America, but, due to human-caused global warming, it's increasingly rare to see a lot of cooler-than-average areas over the globe.