February Shattered Monthly Records For Snow, Cold and Warmth in the U.S.
Sierra Nevada, California
,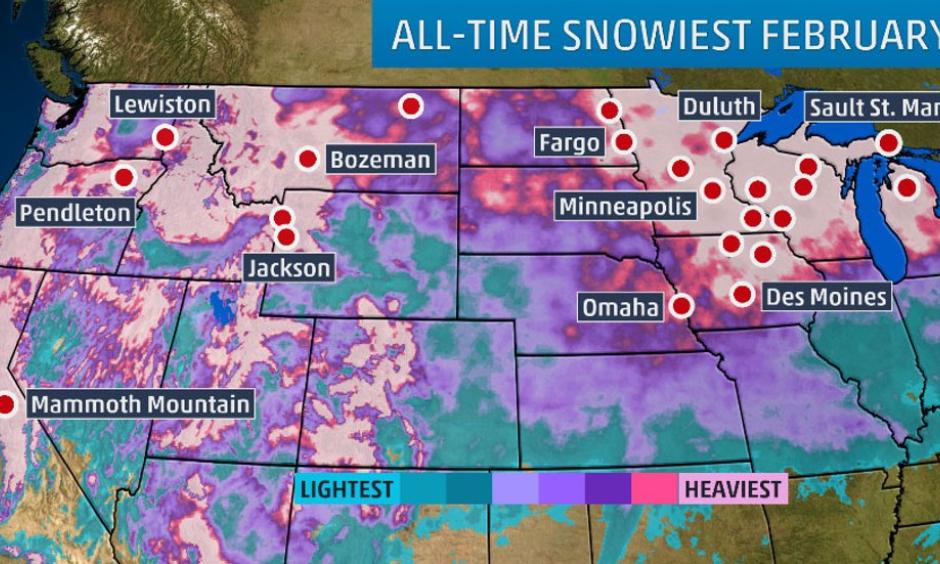 The locations plotted above had an all-time snowiest February in 2019. The underlying contours show the estimated February snowfall. It was a record-smashing February in dozens of locations in the U.S., featuring monthly snow, rain, heat, and cold records.
...
No location was snowier in February than California's Sierra Nevada, which was buried by 207 inches, or more than 17 feet, of snow. This was the highest February total at the ski area since records began in 1970.
...
The heavy rain in February in the mid-South and Ohio Valley propelled several cities to their wettest February on record.
Nashville had received 13.47 inches of rain in February, easily surpassing the previous record of 12.37 inches set in February 1880.
...
Imagine basking in 90-degree heat in the winter. That happened last week in Florida, where several all-time February record highs were tied or broken.
On Feb. 18, Gainesville (89 degrees) and Vero Beach (89 degrees) saw their hottest February day on record.
Then, Naples recorded its all-time hottest February day Feb. 19, when it reached 90 degrees. This was also the city's earliest 90-degree day in records dating to 1942.