First day of spring, or summer? Record heat torches Southwest and Plains.
,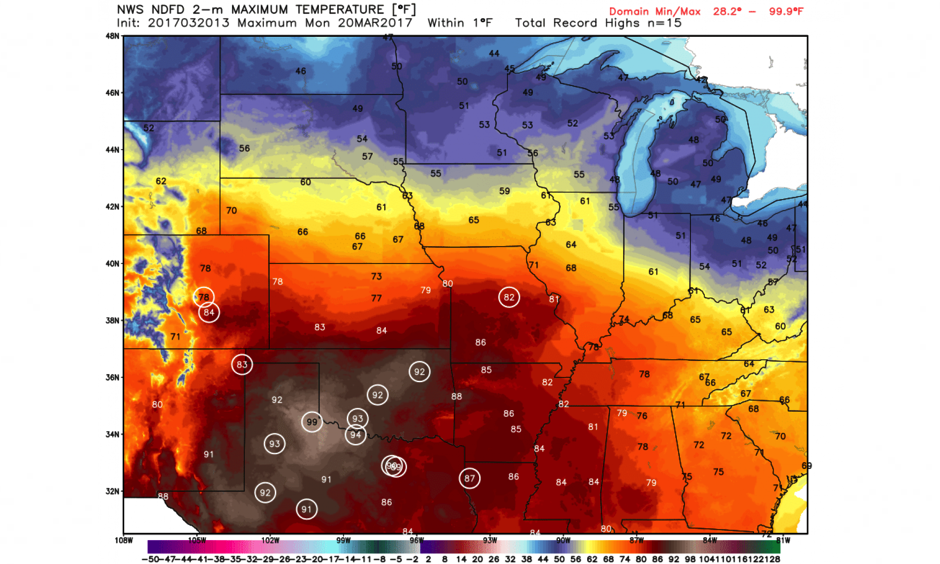 Archivist preface
One of the strongest findings of climate science is that global warming amplifies the intensity, duration and frequency of extreme heat events.
Looking over the past 50 years of average temperature data shows that seven of the eight fastest warming cities are in the West. Las Vegas, Phoenix, and Reno are leading the way, having warmed at least 5°F since 1965.[1] While the urban heat island may play a role, this pattern of warming — coupled with the trend toward rapidly warming nights — is consistent with the general warming coming from greenhouse gases.[1]
Article excerpt
A summerlike heat dome, that has baked the Southwest United States since last week, has oozed into the Plains where high temperatures will threaten records Monday for a second straight day.
On Sunday, parts of the Plains logged their highest temperatures ever recorded so early in the season.
"The last day of winter went out with a blaze of warmth Sunday," wrote Kansas's Salina Journal, which documented record heat in the region.
...
In recent days, many locations from the Desert Southwest into the Plains have established new heat milestones, which include:
A record high of 90 degrees in Las Vegas and 99 degrees in Death Valley, Sunday.
Two consecutive record high temperatures in Boulder, Colo., Saturday and Sunday
Record highs of 95 and 96 degrees on Saturday and Sunday in Phoenix. A third straight record high is possible today. Through Sunday, Phoenix had hit 90 on seven straight days, two short of its longest March streak on record, which it could tie Tuesday.
A record high of 87 degrees Sunday in Kansas City, its warmest temperature so early in the season.
A record high of 92 degrees in Salina, Kan., Tuesday, its earliest 90+ degree temperature on record.