Publication Date August 22, 2017

Flash Flooding in Kansas City Metro Closes Roads, Prompts Water Rescues



 United States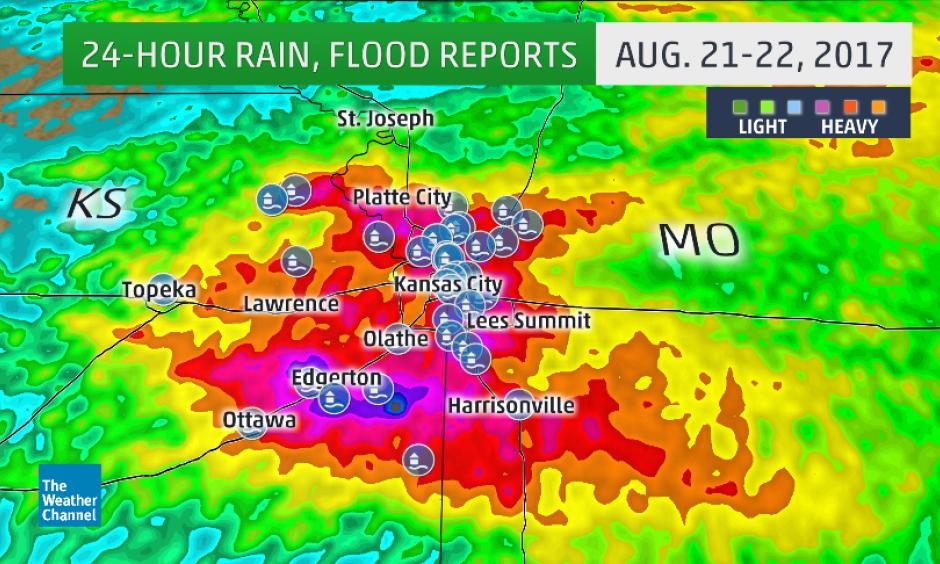 Archivist preface
An extreme rainfall event swept through Kansas City on August 22, bringing up to 8.85 inches of rain in 24 hours to the town of Hillsdale, Kansas, located outside the city.[1] Based on precipitation frequency estimates for the surrounding stations (Paola, Osawatomie, Ottawa, Stilwell, Baldwin City, and Olathe), that 24-hour total qualifies this storm as a 1-in-100 year event.[2]
Article excerpt
Three rounds of heavy rain inundated Kansas City Monday into early Tuesday, triggering the second major flash flood in one part of the metro area in less than a month.
The National Weather Service issued a flash flood emergency early Tuesday morning, as flood-prone Indian Creek in the southern Kansas City metro rose over 17 feet in just over 5 hours early Tuesday to a new record level, swamping an area that had just witnessed severe flash flooding on July 27.
Voluntary evacuations were in effect for a stretch along Indian Creek from 103rd and Stateline to Wornall Road, as well as near 99th and Holmes, according to Kansas City Police.
Flooding in these areas was reported to be worse than the July 27 event, the Kansas City, Missouri, Fire Department told the National Weather Service.
An apartment complex threatened by the rising Blue River along Holmes Road was evacuated near the southern suburb of Grandview early Tuesday. The Blue River was expected to crest at its second highest level early Tuesday, topped only by a September 1961 flood.
Numerous water rescues were required overnight in the metro area, including in Overland Park and Riverside. A stretch of Interstate 35 southbound near downtown Kansas City was reported to have 2 to 3 feet of water covering the road Monday night.
Parts of the Kansas City metro area picked up over 9 inches of rain, as three rounds of heavy rain pounded the area Monday morning, then Monday afternoon, then again Monday night into early Tuesday morning.
Radar estimates and Weather Underground rainfall reports indicated a broad swath of 3 to 7 inches of rain had fallen across the Kansas City metro area.