Florida and Georgia: Hurricane Matthew Is Aiming At You Now
,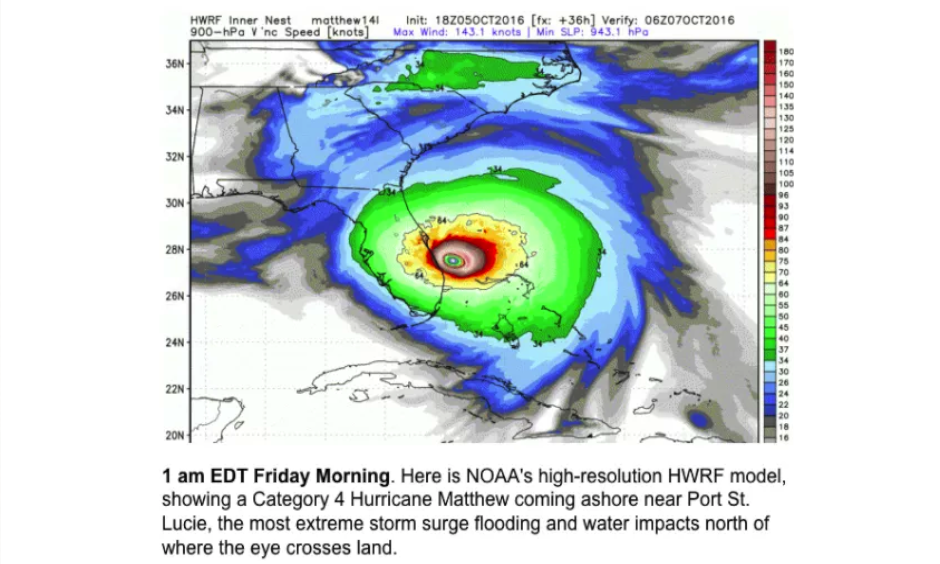 There are two things you need to know about this storm.
Hurricane Matthew Is Global Warming Enhanced
Hurricane Matthew is so bad — so strong, formed so quickly, has done so much damaged, and killed so many, and will do so much more damage, and put so many more people's lives at risk — because of three things that the human release of greenhouse gasses from the burning of fossil fuels have caused.
1) Extraordinarily high sea surface temperatures.
2) Very high ocean temperatures at depth (high temps go way below the surface.
3) Extreme humidity, which feeds the storm's growth...
Matthew, the storm, may have happened anyway. But Matthew the Major Hurricane happened because of human burning of fossil fuels.
Hurricane Matthew Will Affect Florida, Maybe Georgia, in a Unique And Dangerous Way
Most of the projections for this storm have it affecting the Florida and Georgia coast, then either wandering off into the Atlantic or looping back to about where it is now. Which of these two scenarios is the most likely has changed back and forth a couple of times over the last several hours, as far as I can tell. We won't know for a few days. In the mean time, the storm is heading for Florida RIGHT NOW and will be there by some time Thursday night