This Freakishly Warm, Totally Wrong Christmas Eve Weather, Explained
Philadelphia, PA
New York, NY
,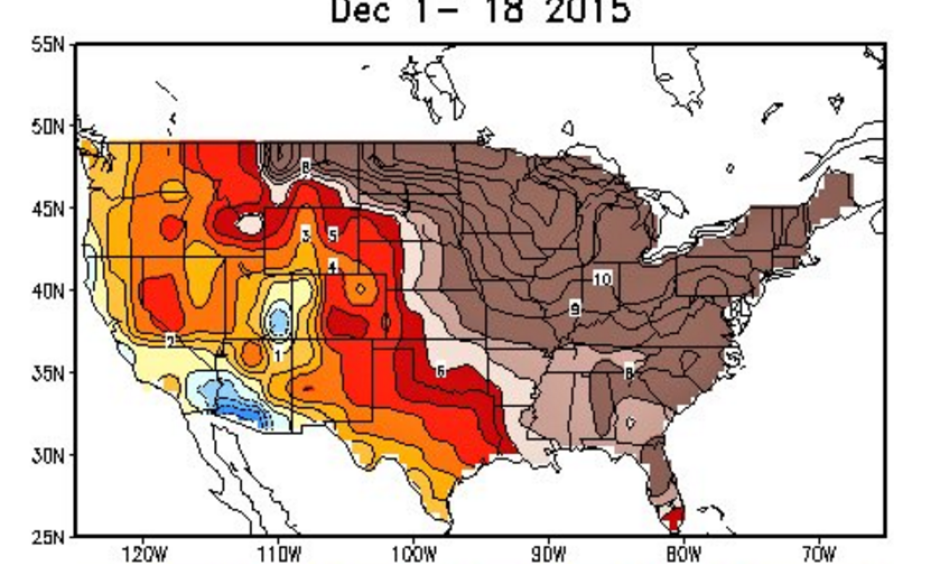 All month long, temperatures have been so unseasonably warm up and down the East Coast that it's broken the National Weather Service's anomaly scale. December 2015 is on pace to become one of the most anomalous months—hot or cold—ever measured in the United States. Philadelphia, for example, will simply shatter its monthly temperature record...
The weather pattern, which many meteorologists are referring to as a "blowtorch," has been taking shape for several days as steady westward winds have been blowing low over the tropical Atlantic, scooping up loads of moisture. And there's definitely a lot of moisture to work with: Much of the tropical Atlantic Ocean has been record-warm in 2015, and warmer water means more evaporation. A particularly intense midwestern storm system brewing since Monday has steered that truly tropical air mass directly toward the East Coast, and it's arrived essentially unimpeded, thanks to a stronger-than-normal Arctic circulation that's keeping cold air firmly sequestered near the North Pole...
Heat waves like this one have among the clearest ties to global warming of any extreme weather event. Next week, New York City will lock in its longest-ever stretch of days above freezing. The seasons are perceptibly shifting. However, that doesn't mean greenhouse gases are entirely, or even mostly, to blame for 40-degrees-warmer-than-normal days. This month's weird warmth is more closely tied to the record-setting El Niño, which has shifted weather patterns and boosted temperatures worldwide. Recent studies suggest, though, that extreme El Niños like this one may be getting more common with climate change. With November's data in, NASA scientists are now 99.999 percent sure that 2015 will be the warmest year ever recorded. Since El Niño has a delayed effect on the atmosphere, 2016 will almost assuredly be even warmer.