Last updated December 21, 2019

Frigid Cold -30s and -40s Descend Into Alaska Despite a Record Warm Year-to-Date



 United States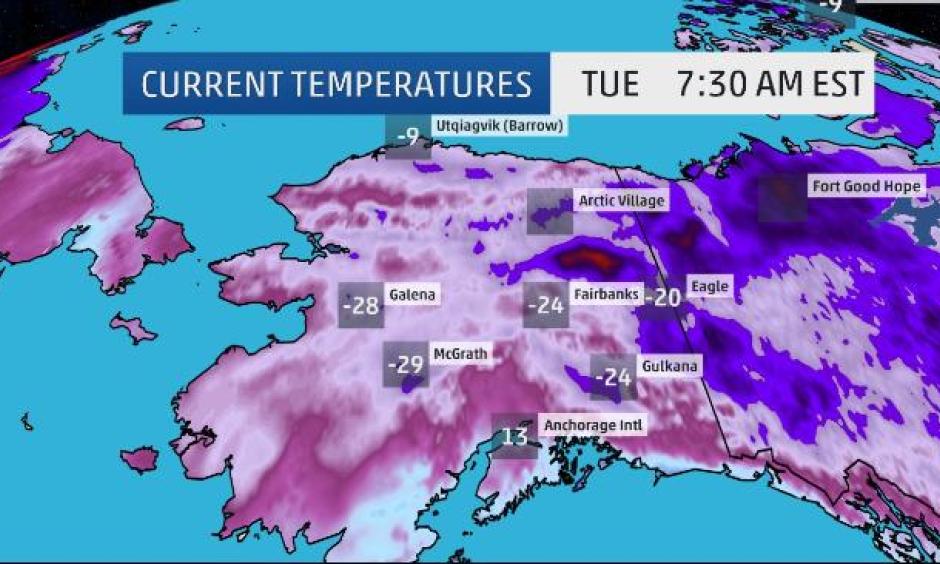 Parts of Alaska's interior saw temperatures as cold as the -40s over the weekend.
Aptly named Arctic Village dipped to -44 degrees (Fahrenheit) early Monday morning. At least four other locations dipped to that frigid -40 degree mark Sunday or Monday morning: Atigun River, Bettles, Kanuti Lake and Norutak Lake, according to the National Weather Service in Fairbanks.
Fairbanks dipped to 35 degrees below zero Sunday morning, the first time that had happened since Jan. 13, 2014, according to Alaska-based climatologist, Dr. Brian Brettschneider.
As typically occurs, this bitter cold air settled in valley locations such as the Tanana River Valley, producing an intense temperature inversion, trapping pollutants near the ground.
Subzero cold also plunged into Anchorage on Monday morning, snapping the second longest streak temperatures had remained above zero in Alaska's largest city, according to Brettschneider, and was the coldest, there in almost three years, since Christmas Day 2013.
The culprit for this bitter cold was blocking high pressure over the Bering Strait, resembling the Greek letter omega (Ω).
This feature essentially cut off any milder air flowing northward from the Gulf of Alaska in favor of either cold air from near the North Pole flowing south, or by simply letting the cold air in place refrigerate during the long nights at high latitude.
Surely, temperatures in the -40s are shattering at least daily record lows, right?
Actually, they aren't, and in some areas, it's not even close.