Hail, Flooding in Las Vegas Force Rescues
,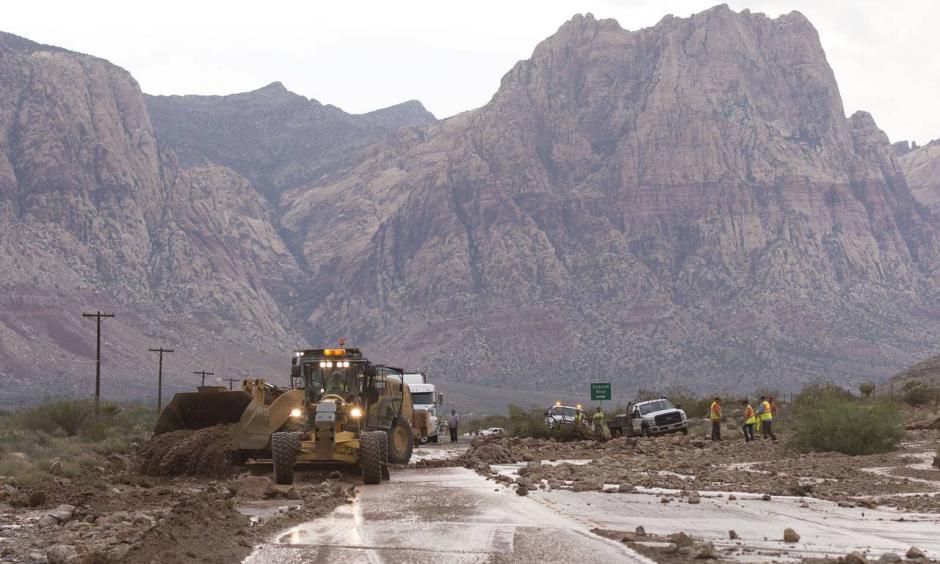 Due to climate change, and the warming of the atmosphere, the air holds and dumps more water. There is about 10 percent more moisture in the atmosphere since 1970, increases precipitation by 10 percent. This process also releases latent heat into storms, which can invigorate storms so that the net increase in precipitation is up to 20 percent, or double the resident moisture in the atmosphere.
Intense thunderstorms pounded the Las Vegas area Thursday with golf ball-sized hail, gusty winds, destructive lightning and sheets of rain that swamped busy intersections and left at least one person hospitalized after she was plucked from a flooded wash, authorities said.
The woman was believed to have suffered a heart attack while she and two other people were rescued from rushing water near the Hard Rock Casino Hotel east of the Las Vegas Strip, Deputy Clark County Fire Chief Jeff Buchanan said...
Monsoon-style summer storms aren't unusual in the desert around Las Vegas, where one or two storms can go a long way toward filling rain gauges that average only 4.19 inches of rainfall a year.

But heavy rain can turn to torrents sluicing off sun-baked desert or pavement into miles of flood channels constructed to protect homes and businesses.
Weather service meteorologist John Adair said Henderson received up to 1½ inch of rain between 2 and 3 p.m. Red Rock Canyon, about 25 miles west of the Strip, received more than 1¼ inches, and Mr. Adair said flooding closed the scenic 13-mile loop road through the preserve