Halloween Surprise: Rare Tropical Storm Forms in Mediterranean Sea
,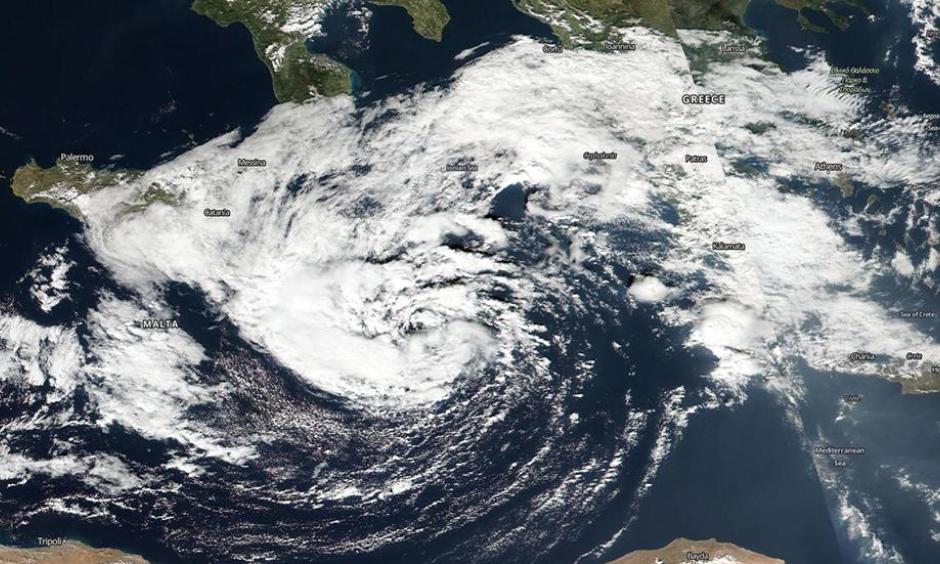 Archiver's preface
The Mediterranean tropical storm formed over water temperatures that were 2 to 3°C warmer than normal. A study released October 12, 2016 by meteorologists in Spain and Italy found that although medicanes may become slightly more rare in the coming decades, they are likely to become stronger—a finding in line with previous study of the impact of climate change on tropical storms and hurricanes worldwide, and previous studies of medicanes.[1]
Article excerpt
A tropical storm formed Halloween weekend, not in the typical Atlantic or Pacific, but in the Mediterranean Sea.
This rather strange sequence of events began as an area of low-pressure dropped southward from southern Europe and became temporarily left behind by the jet stream over the central Mediterranean Sea south of the Italian coast.
By Saturday, Oct. 29, a non-tropical low pressure center formed east of Malta, a group of islands between Sicily and the coast of Libya over the weekend.
...
In the meteorological community, there is some debate whether past vigorous low-pressure centers over the Mediterranean Sea were truly tropical cyclones, or a combination of a tropical and more typical mid-latitude low-pressure center, known as a subtropical cyclone.
In fact, they can become strong enough to be considered Mediterranean hurricanes, or "Medicanes". They can form in late summer or fall and also in winter and early spring.
One argument for "Medicanes" is the appearance of some recent storms via satellite resembling small hurricanes, including an eye.