Heat Records Shattered in Germany, France, The Netherlands in June/July 2015 Europe Heat Wave
,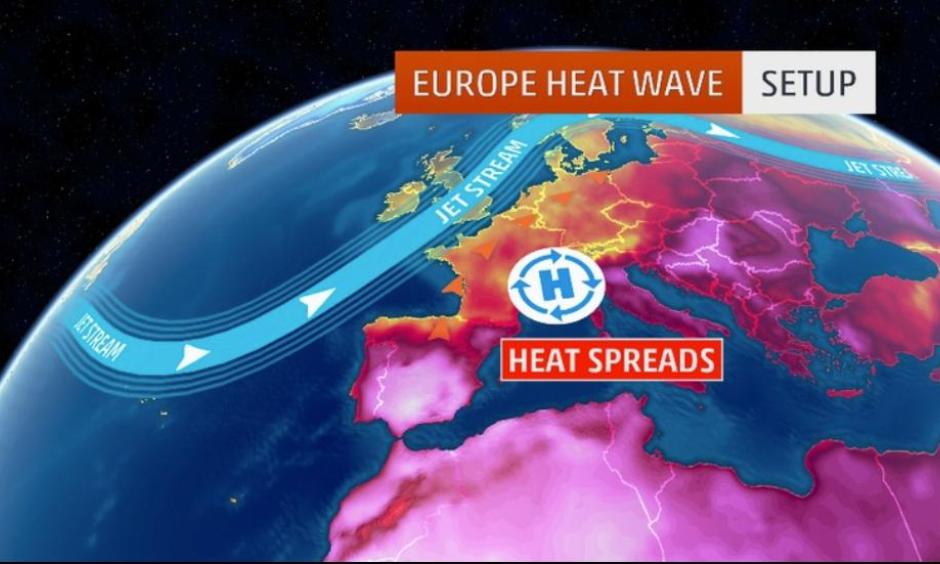 A European heat wave in late June and early July has smashed monthly and even a few all-time records.
Madrid (central Madrid) set a new July record high on July 6, topping out at 39.9 degrees Celsius -- 103.8 degrees Fahrenheit, exceeding the previous July record from July 24, 1995 (39.5C). They also set a June record high June 29, reaching 39.7 degrees Celsius -- 103.5 degrees Fahrenheit.
Germany's all-time heat record was toppled July 5 in Kitzingen, topping out at 40.3 degrees Celsius (104.5 degrees Fahrenheit)...This eclipsed the previous German all-time high of 40.2C (104.4F) from August 2003 and July 1983.
Masters says many German cities set their all-time heat records on the July 4-5 weekend, including Berlin (Dahlem) reaching 37.9C (100.2F) Saturday and Frankfurt soaring to 39C (102.2F) Sunday.
Several monthly and all-time records were either tied or broken during the first weekend in July in France.
Temperatures as hot as 36 degrees Celsius (about 97F) were reported in western Poland while Plzen-Mikulka, in the western Czech Republic topped out at 37.8 degrees C Sunday.
Even parts of southern Sweden pushed the 32 degrees Celsius (89.6F) mark Sunday.
Last Wednesday afternoon, the temperature at London's Heathrow Airport skyrocketed to 36.7 degrees Celsius -- 98.1 degrees Fahrenheit -- a July heat record not only there but for anywhere in the U.K., according to the U.K. Met Office.
The previous U.K. July heat record was set almost nine years ago -- 36.5 degrees C in Wisley on July 19, 2006. It was also the hottest day in Wimbledon history, topping the previous record of 34.6 degrees C on June 26, 1976.
Paris, France saw its temperature soar to 39.7 degrees Celsius -- 103.5 degrees Fahrenheit -- last Wednesday, the second hottest reading there dating to 1873, according to Météo-France.
Météo-France says three French locations chalked up all-time record highs last Wednesday, topping their highest temperatures from either the 2003 or 2006 heat waves:
- Boulogne-sur-Mer (35.4 degrees Celsius or 95.7 degrees Fahrenheit) beat their previous record from Aug. 11, 2003 (34.8C).
- Dieppe (38.3C or 100.9F) beat their previous record from July 19, 2006 (37C).
- Melun (39.4C or 102.9F) beat their previous record from Aug. 12, 2003 (38.9C).
It wasn't just the high temperatures, lows generally did not drop below 68 degrees (20C) on Saturday morning and for many cities in France they had never recorded such hot nights in July. Lons-le-Saunier in eastern France saw a low of 80 degrees (28C).
On Thursday, Maastricht, in the far southeast of The Netherlands, rose to 38.2 degrees Celsius (100.8F), a new national July heat record, topping Westdorpe's 37.1C reading in 2006.
Earlier last week, heat records were toppled in parts of Spain.
Last Monday afternoon, Madrid's Adolfo Suarez Madrid-Barajas Airport pushed up to 40 degrees Celsius (104 F), a first for June in records dating to 1945. According to AEMet, four other locations in Spain with records dating to at least the 1950s tied or set new June heat records Monday.
Cordoba, in southern Spain, reached a sizzling 43.7 degrees Celsius last Sunday (110.7F) and topped that this Monday, July 6 with a high of 45 degrees Celsius (113F).