Heavy Rainfall Trends Across the U.S.
by
WxShift News via Climate Central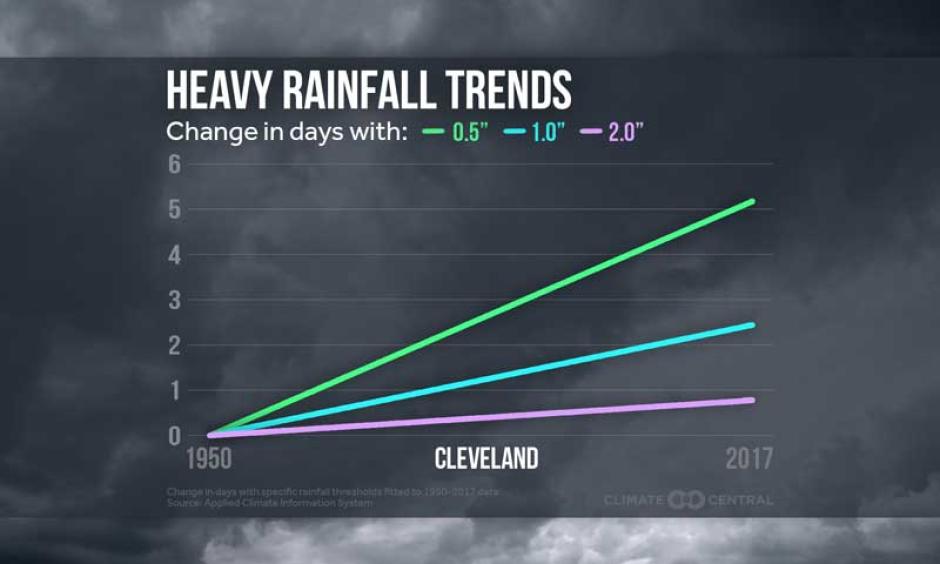 With flooding in parts of the Mississippi Valley and a strong Pacific storm coming into the Northwest, we examined the trend in the number of days each year with heavy precipitation at 244 individual sites in the U.S. This expands our nationwide-averaged heavy precipitation analysis from earlier this year, complementing the 2017 Climate Science Special Report which indicated the heaviest precipitation events are increasing in all regions of the U.S.
As the world warms from the increase of greenhouse gases in our atmosphere, there is more evaporation from oceans, lakes, rivers, and even transpiring plants. For every 1°F of warming, the saturation level of the atmosphere increases by about four percent. This means more water is available to condense into precipitation, and it can come down in heavier downpours.
Heavier rain means more flooding — both flash flooding and larger river flooding. This can lead to more property damage, and in the long term, historical flooding maps may need to be redrawn to address this risk, affecting property values and insurance rates. Excluding tropical cyclones, individual billion-dollar flooding events in the U.S. have added up to $39 billion in losses since 2010. Including tropical cyclone damage estimates (which also factor in storm surge and wind damage) makes the total balloon to over $400 billion since that time.