Hurricane Dora Weakening off the Mexican Pacific Coast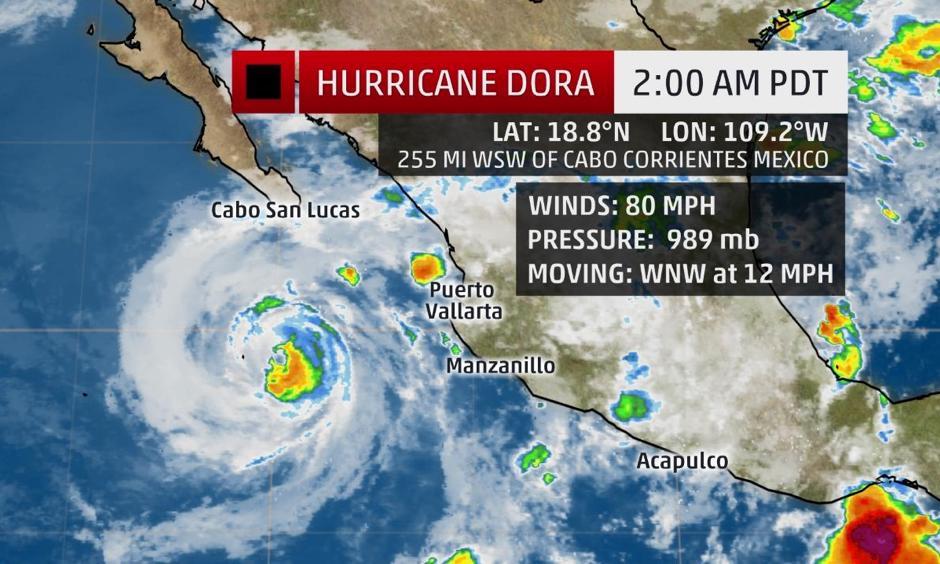 Hurricane Dora became the first hurricane of the 2017 eastern Pacific hurricane season early Monday morning, but is now weakening quickly as it moves safely away from the Mexican coast.
Dora, originally formed as Tropical Depression Four-E on Saturday night before being elevated to tropical storm status early Sunday, is gliding toward the west-northwest over the open waters of the eastern Pacific just under 300 miles south of Los Cabos, Mexico
Low wind shear and warm sea-surface temperatures allowed Dora to strengthen Monday, but the combination of cooler ocean temperatures and drier, more stable air, is now inducing a quick weakening of the tropical cyclone.
Here's the latest from the National Hurricane Center:
Hurricane Dora is centered about 285 miles south of Los Cabos, Mexico (the southern tip of the Baja peninsula).
Dora's center will remain well off the Mexican coast, and will pass well south of Los Cabos and the southern Baja peninsula.
Dora is expected to pass near Socorro Island on Tuesday, a small volcanic island under Mexican jurisdiction.
Dora will quickly weaken to a tropical storm Tuesday, to a depression then remnant low by Wednesday or Thursday.
Elevated seas/rip currents along the Mexican coast are expected to be the main threats from Dora.
Dora is no threat to the U.S. mainland.