Hurricane Florence crippled the seafood industry. Farmers must decide whether to rebuild.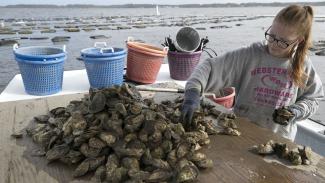 After Hurricane Florence, bags of dead oysters hung in the trees near Jimmy Morris' oyster farm and hatchery.
Florence ransacked his Morris Family Shellfish Farms in Sealevel, north of Beaufort and Morehead City. Pummeling winds, historic flooding and power outages killed a year's worth of shellfish seed, the early stage for 10 million oysters and 5 million clams, plus the better part of 1,000 cages of market oysters.
"There were oysters everywhere," Morris said after the storm.
Florence hit North Carolina in September as a Category 1 hurricane, then stopped and stalled for days on the coast as it dumped trillions of gallons of rain. The rush of freshwater chased off fish, killed millions of oysters and crippled an industry still taking stock of its losses.
...
In the weeks after the storm, Weirich estimated shellfish losses around $5 million — including oysters, clams and infrastructure — a figure he expects will end up surpassing the $5.5 million the oyster industry brought in last year, according to state's annual fisheries bulletin.
...
The state has offered up $1.2 million in relief for commercial fishing and shellfish, according to the report from the governor's office.
"That's a drop in the bucket," Wierich said recently.
Cooper's office also has petitioned the U.S. Department of Commerce to declare a fisheries disaster in North Carolina, potentially freeing up more relief funds. Last year, a similar declaration led to $13 million for Texas watermen affected by Hurricane Harvey.
But for some fisheries, Hurricane Florence means owners must decide whether rebuilding is feasible, or even worth it.
...
Ahead of the storm, North Carolina officials closed every oyster farm along the coast, a routine move before hurricanes or heavy rains. Even a few inches of rain can contaminate an oyster harvesting area with runoff, making oysters unsafe to eat.
Many farmers worried about the volume of water that flowed out of the eastern part of the state and collided with the sounds and inlets where they stake their livelihood. Rivers flooded, lagoons full of hog waste overflowed, and some municipal waste facilities became overwhelmed with water, spilling it all into the waterways.