Hurricane Jose to Bring Coastal Flooding, Rain, Wind to the Eastern Seaboard; Tropical Storm Warning Issued in Southeast New England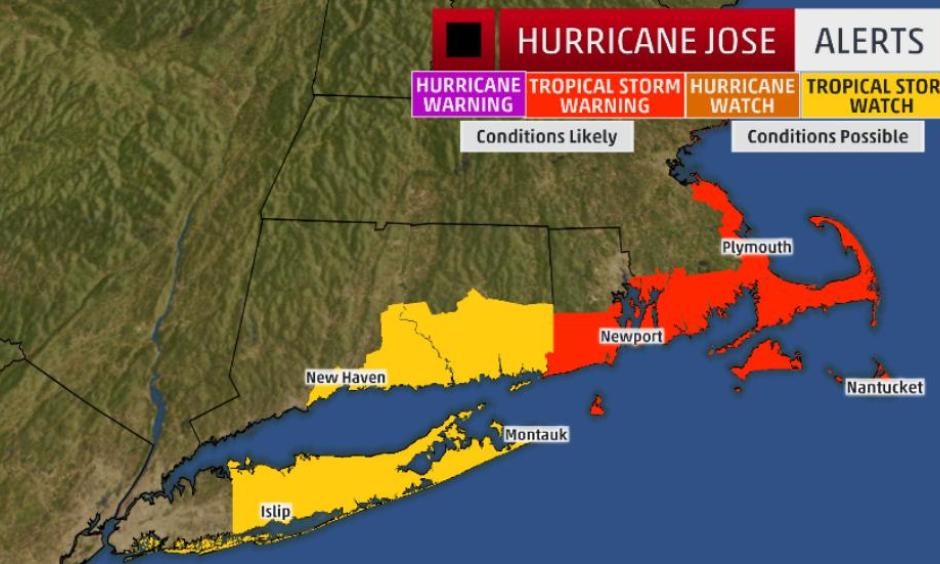 Hurricane Jose is expected to remain well off the East Coast of the United States, but will still produce a combination of coastal flooding, high surf, tropical-storm-force winds and heavy rainfall, particularly in far southeastern New England.
Tropical storm warnings have been issued for parts of coastal southeast New England, from Watch Hill, Rhode Island, to Hull, Massachusetts, including Block Island, Martha's Vineyard and Nantucket. This means tropical-storm-force winds are expected within 36 hours.
A tropical storm watch remains in effect along the coast of Long Island from Fire Island Inlet to Port Jefferson, as well as from New Haven, Connecticut, to Watch Hill, Rhode Island. A watch means tropical storm conditions are possible within 48 hours.
Jose's center is currently located more than 300 miles south of Nantucket, Massachusetts, and is moving north at near 10 mph.
...
Here's a look at the timing and what to expect from Jose.
Timing
Tuesday-Tuesday night: Areas from the Delmarva Peninsula to Long Island and southern New England may be affected by gusty winds and bands of rain.
Wednesday: Portions of coastal New England may see bands of rain, possibly heavy at times. Tropical-storm-force winds are most possible on Nantucket Island, Martha's Vineyard, Cape Cod and coastal Rhode Island.