Hurricane Maria Lashes Puerto Rico : Image of the Day
by
NOAA, NASA Earth Observatory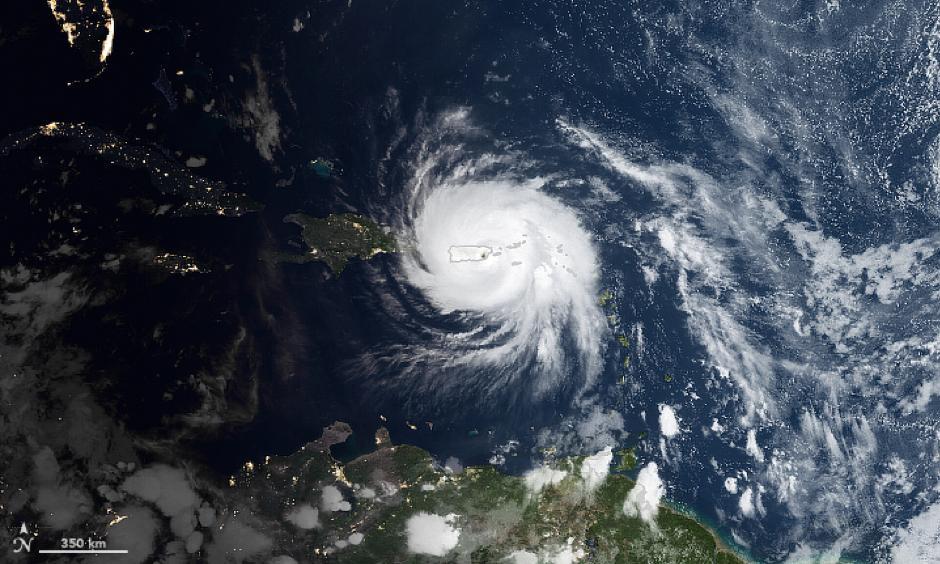 Yet again, a powerful hurricane has devastated a Caribbean island. Earlier in September, it was Barbuda, Saint Barthélemy, and the Virgin Islands that took a direct hit from Irma. On September 19, category 5 Hurricane Maria battered Dominica. Now Puerto Rico has taken its turn.
While Maria weakened slightly before making landfall on September 20 in southeastern Puerto Rico, the storm's track was a near worst-case scenario. It ripped directly across the island with sustained winds of 155 miles per hour (250 kilometers per hour). That made it the fifth strongest hurricane to ever hit the United States.
The composite image above shows Maria as it was making landfall near Yabucoa. Infrared (band 4) and visible data (band 1) from Geostationary Operational Environmental Satellite 13 (GOES-13) acquired at 6:15 a.m. local time (10:15 Universal Time) is overlaid on blue marble data from the Moderate Resolution Imaging Spectroradiometer (MODIS) and black marble data from the Visible Infrared Imaging Radiometer Suite (VIIRS). The series of GOES satellites are operated by the National Oceanic and Atmospheric Administration (NOAA), while NASA helps develop and launch them.
...
Preliminary reports suggest that the damage in Puerto Rico is widespread and severe. Electricity was out throughout the entire island. Powerful winds tore off roofs. Cell phone service is offline in many areas. Storm surges flooded many coastal towns and cities. Extreme rainfall rates—some areas reported 5 to 7 inches (13 to 18 centimeters) falling per hour—fueled destructive flash floods and landslides.