Hurricane Sandy Fast Facts



 Atlantic Ocean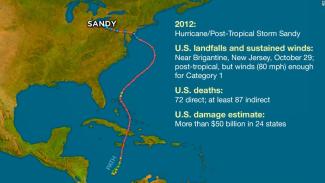 Here's a look at Hurricane Sandy, which was also called "Superstorm Sandy."
According to the Federal Emergency Management Agency (FEMA), Hurricane Sandy affected 24 states and all of the eastern seaboard. Causing an estimated $70.2 billion in damages, it was the fourth-costliest US storm behind Hurricane Katrina in 2005 and hurricanes Harvey and Maria in 2017, according to the National Oceanic and Atmospheric Administration.
Records:
October 29, 2012 - Hurricane-hunter aircraft measure Sandy's central pressure at 940 millibars -- 27.76 inches - the lowest barometric reading ever recorded for an Atlantic storm to make landfall north of Cape Hatteras, North Carolina. The previous record holder was the 1938 "Long Island Express" Hurricane, which dropped as low as 946 millibars.
October 29, 2012 - The surge level at Battery Park in New York tops 13.88 feet at 9:24 p.m., surpassing the old record of 10.02 feet, set by Hurricane Donna in 1960.
October 29, 2012 - New York Harbor's surf reaches a record level when a buoy measures a 32.5-foot wave. That wave is more than seven feet taller than a 25-foot wave churned up by Hurricane Irene in 2011.