Indian PM Modi says flood-hit people getting aid, blames climate change
Chakalya, Madhya Pradesh1
,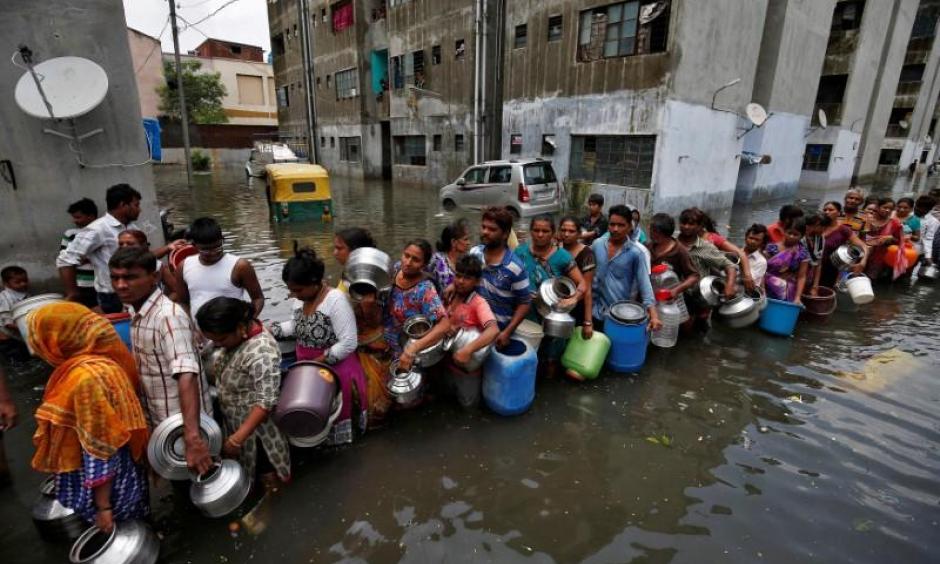 Authorities across India are taking steps to help millions of people hit by floods and to prepare for future disasters, Prime Minister Narendra Modi said, adding that climate change and new weather patterns were having a "big negative impact".
At least 130 people have died in western and northeastern parts of India and millions of people have been affected by floods that have submerged villages, washed away crops, destroyed roads and disrupted power and phone lines.
Heavy monsoon rains have caused mighty rivers like the Brahmaputra river and their tributaries to burst their banks forcing people into relief camps in states such as Gujarat, Assam, Rajasthan and West Bengal.
...
"Climate change, altered weather cycles, and transformations in the environment, are also having a big negative impact."
India usually experiences monsoon rains from June to September, which are vital for its agriculture -- making up 18 percent of its gross domestic product and providing employment for almost half of its 1.3 billion population.
But in many states across the country, the rains frequently cause rivers to overflow and flooding forces millions into temporary camps, devastates standing crops, destroys homes and exposes people to diseases such as diarrhea.
The torrential rains this year have not only triggered landslides in hilly regions like Nagaland, Manipur and Arunachal Pradesh, they have also flooded national parks, forcing wildlife, including the rare one-horned rhinoceros, to flee.
The fast-flowing waters have also breached embankments and eroded dikes in some areas, leaving some roads inaccessible, compounding efforts to rescue marooned villagers.
...
Rains have been 4 percent above average since the four-month monsoon season began in June, according to the state-run India Meteorological Department.