Intense lake-snow effect to continue downwind the Great Lakes



 United States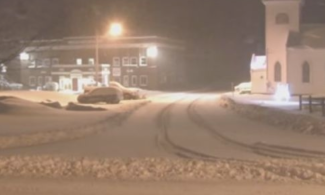 The lake-effect snow, affecting regions downwind the Great Lakes since December 8, 2016, is expected to continue into the weekend. A deadly pile up caused three deaths and several injuries in Central Michigan, so far.
40 vehicles were involved in a crash, caused by heavy snowfall, that occurred near the Fowlerville town, on the Interstate 96. Intense snowy conditions lead to whiteout conditions, as the falling snow melted and froze, causing slippery roads, according to the local authorities.
Dave Samuhel, a Senior Meteorologist from the AccuWeather explained a burst of snow occurred around or just before the accidents while temperatures were in the range between -3.9 and -3.3 °C (25 and 26 °F). At the same time, low visibility conditions were reported, reaching under 402 m (1 320 feet) at Howell town.
...
According to the National Weather Service (NWS), lake-effect snow will continue through December 10 (local time) downwind of the Great Lakes, as cold air from Canada streams across the relatively warm lakes. Some regions may receive more than 0.6 m (2 feet) of snow. At the same time, other regions will see between 2.5 and 15.2 cm (1 and 6 inches) of snow.