Irma weakens to tropical storm after battering Florida, turns its sights on Georgia
,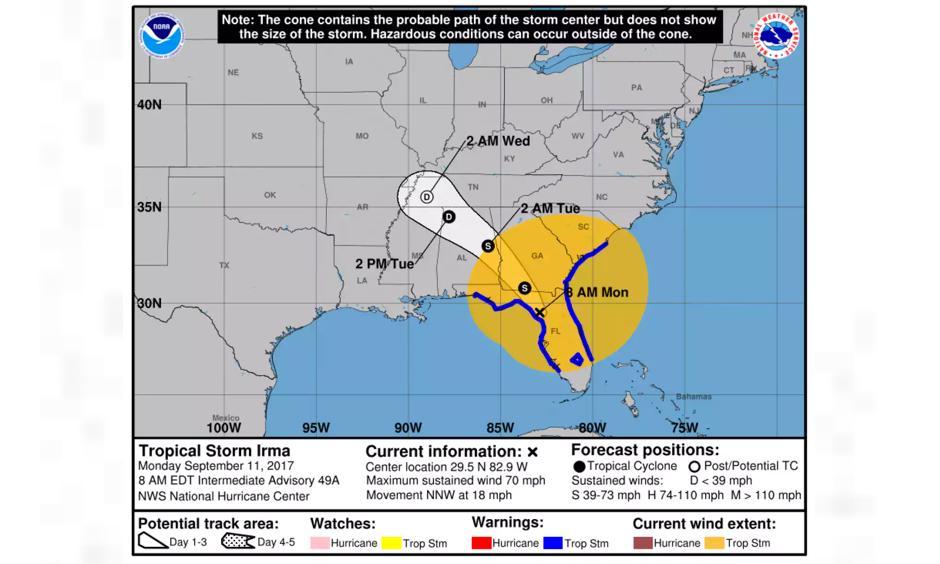 Extremely dangerous Hurricane Irma first crashed into the Florida Keys on Sunday morning and then made a second landfall on Marco Island on Florida's west coast Sunday afternoon, unleashing violent wind gusts up to 142 mph and storm-surge flooding. As it plowed through northern Florida Monday morning, however, it weakened to a tropical storm.
...
Dangerous flash flooding due to heavy rain and storm surge was occurring around downtown Jacksonsville. And thanks to Irma's large wind field, a broad area was experiencing tropical-storm force winds and gusts up to hurricane strength.
...
A flash flood emergency was issued for downtown Jacksonville early Monday morning, in effect through 12:30 p.m., due to heavy rain and storm surge. The Weather Service urged affected residents to move to higher ground. The Weather Service reported the storm surge flooding in Jacksonville set an all-time record.
...
As the eyewall moved over Naples late Sunday afternoon, it reported sustained winds of 93 mph and a gust to 142 mph – the strongest recorded from this storm in the United States.
...
In Naples, as of 7 p.m., water levels were about four feet above normally dry land but the level was starting to stabilize around 8 p.m. Amazingly, it set its second lowest water level and highest water level all in the course of 8 hours.
...
In the afternoon, sustained winds in Miami and Fort Lauderdale reached 50-60 mph through the early afternoon, gusting as high as 80 to 100 mph. Miami International Airport clocked a gust to 94 mph and an isolated gust hit 100 mph at the University of Miami.
Also during the afternoon the seas had risen several feet above normally dry land. Social media photos and videos showed water pouring through Miami's streets, in between high-rises, amid sideways sheets of rains.
While the core of the storm and worst winds passed the Keys early Sunday morning, the Weather Service warned storm surge flooding was ongoing as winds on the storm's backside shoved water over the islands. Gusts still reached 50 to 60 mph as of 7:45 p.m.
Early Sunday afternoon, the maximum surge at Cudjoe Key was estimated at 10 feet.
...
About 3.6 million customers were without power.
Particularly in South and Central Florida, torrential rain had fallen, with widespread totals of 6 to 10 inches and pockets up to 10 to 14 inches. Numerous flash flood warnings had been issued.