It Was a Good Water Year in California, But Don't Get Used To It



 United States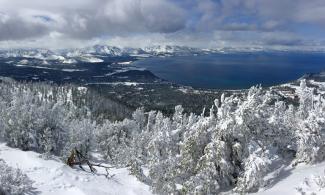 Almost all of the precipitation that falls in California does so between November and April. In Los Angeles, 91 percent of its annual rain comes during those months. In Sacramento, that number is 88 percent. As a result, the snow that falls in the state's Sierra Nevada range during the winter helps fuel streams and reservoirs as it melts later in the year, providing water during the dry summer months.
In both Los Angeles and Sacramento, January and February are normally the wettest months of that wet season, and that was certainly the case this year. The numerous storms that crashed into California during the past two months led to Los Angeles having nearly double (181 percent) its normal rain for those two months, and Sacramento with more than double (256 percent) its normal rain. In fact, Sacramento had its wettest January on record, with 9.92 inches of rain.
And the snow in the Sierra is bountiful this year. Through March 10, the snow on the ground was 178 percent of normal for the date, indicating nearly 4 feet of water is locked up in the snowpack.
But it was just over a year ago that one of the strongest El Niños on record was roaring in the Pacific Ocean, and drought-weary Californians hoped it would bring badly needed precipitation during the 2015-16 wet season. While there were some modest benefits, it largely fell flat, and the multi-year drought continued into the summer of 2016.
The wet season has been entirely different this year. The El Niño was long gone by the summer of 2016, yet California just finished its second wettest winter on record. Only 1969 was wetter, and that was not an El Niño year either. Of the three big El Niños of the last generation (1982-83, 1997-98, and 2015-16), only the 1997-98 event gave California one of its 10 wettest winters on record, coming in third.