Japan's All-Time Record High Broken as Kumagaya Hits 106 Degrees
Kumagaya, Saitama Prefecture
by
Associated Press via the Weather Channel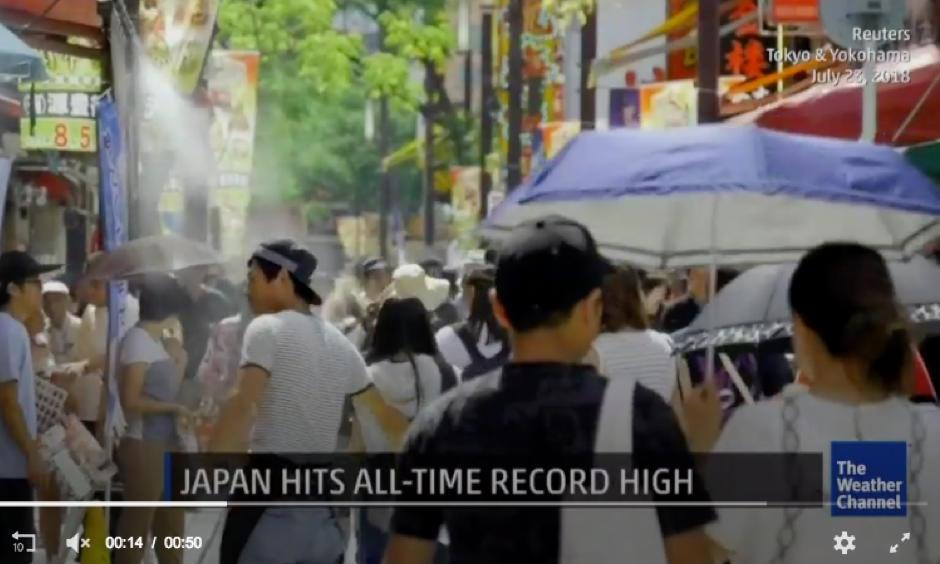 Amid a deadly heat wave that gripped several Asian countries, Japan recorded its highest temperature Monday since records began.
The mercury soared to 106 degrees in Kumagaya, a city in Saitama prefecture located some 40 miles northwest of Tokyo, according to the Japan Meteorological Agency. The reading broke the previous record of 105.8 degrees, set Aug. 12, 2013 in the town of Ekawasaki, located on Shikoku Island.
Records have been falling across the nation for nearly two weeks as high pressure has remained locked into the region, keeping the heat in place. The heat wave has killed at least 40 people in Japan, and 10 more deaths have been reported in South Korea.
...
Ten people have died in South Korea of heatstroke and other heat-related causes this summer, seven of them last week, the Korea Centers for Disease Control and Prevention said Monday. About 1,040 people have fallen ill because of hot weather from May 20 to July 21, an increase of 61 percent over the same period last year, it said.
South Korea's highest-ever morning low was recorded in the city of Gangneung, where the temperature was 88 degrees at 6:45 a.m. The morning low in Seoul was 84.6 degrees, a record for the country's capital, according to South Korea's weather agency.
The mercury hit 103.8 degrees in the southeastern town of Hayang, the highest temperature in the country so far this year.