Lake Powell to dip below critical threshold



 Lake Powell, AZ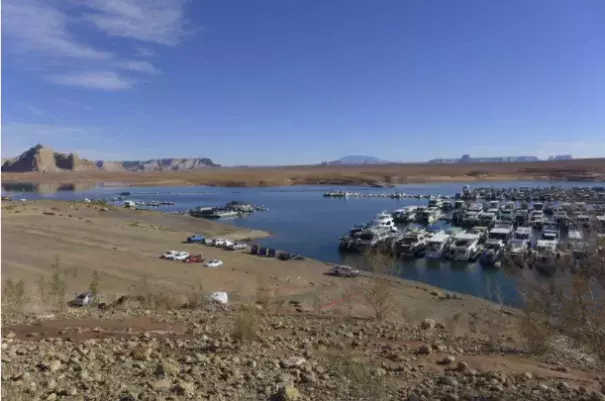 Climate Signals summary: The drought in the Western United States, worsened by human-caused climate change due to the burning of fossil fuels, is causing the second largest reservoir on the Colorado River to dip below a critical threshold - threatening power generation in the region.
---
Article excerpt:
Despite emergency releases from three upper basin reservoirs last summer and fall aimed at propping up Lake Powell, levels in the reservoir are projected to dip below a critical threshold in the coming days.
The second largest reservoir on the Colorado River is predicted to fall below the target elevation of 3,525 feet between March 11 and 15, according to Becki Bryant, public affairs officer with the U.S. Bureau of Reclamation. The dip is temporary and levels are expected to rise above the threshold again in May when snowpack runoff gets underway. As of March 10, Lake Powell was at 3,525.66 feet.
The 3,525 feet number is important because that was the elevation set in the 2019 Drought Response Operations Agreement (DROA). That number gives water managers a 35-foot buffer in which to take action before water levels reach the minimum level needed to generate hydropower for millions of people in the southwest: 3,490 feet.
You can read the rest of this article here:
https://www.vaildaily.com/news/lake-powell-to-dip-below-critical-threshold/