Late winter wildfires burn through Texas, Oklahoma, and Kansas in March 2017
,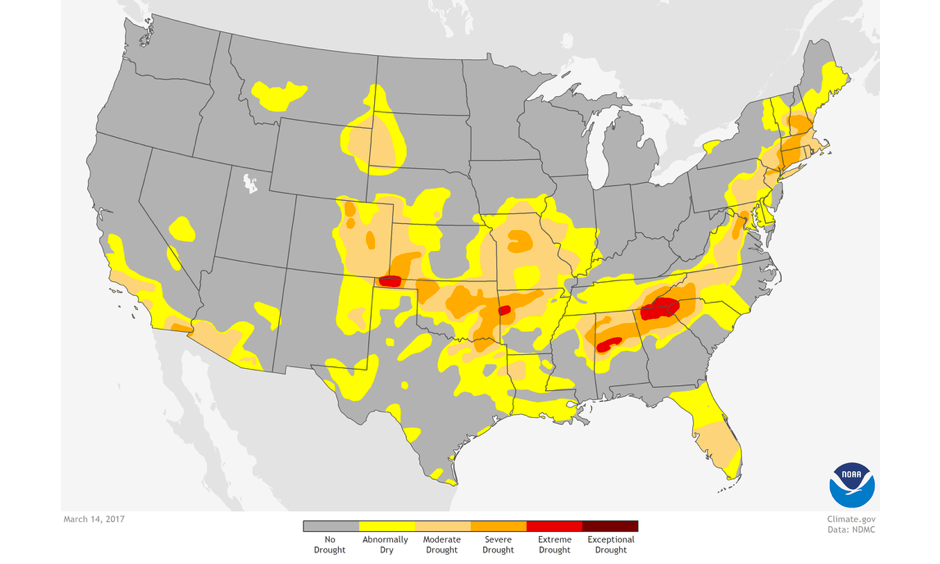 A combination of a dry prairie, hot and dry air, and gusty winds were all it took to fan the flames of wildfires throughout parts of the Oklahoma panhandle, northern Texas, and western Kansas during March. While some fires have been extinguished, others still remain smoldering as air temperatures continue to soar, amplifying the risk for additional wildfires across the southern Plains.
The wildfires tore through cattle country, feasting on grasses made dry by long-term drought and exacerbated by recent warm weather. Once the fires were started, strong winds whipped the flames, helping them spread more rapidly. According to Reuters, a wildfire in Texas during the beginning of March moved at speeds up to 70mph as it raced across the Texas Panhandle. By the third week of March, the fires had killed at least seven people—not to mention thousands of livestock—and burned more than 2 million acres.
The largest group of fires—the Northwest Oklahoma Complex fires—spanned the border between Oklahoma and Kansas. As of March 21, it had burned over 1200 square miles but its perimeter was 99% contained. The fires in Kansas—which total over 400,000 acres burned—were the largest in state history, according to the New York Times. In the Texas Panhandle, the Perryton Fire burned nearly 500 square miles and was the third largest in Texas A&M Forest Service history.
The fires have proved devastating to the cattle industry as thousands of livestock either died in the fires or had to be put down due to their injuries. For cattle that survived the fires, there now remains little in the way of grazing lands as tall grasses and brush served as the main fuel for the wildfires. In Texas, according to the same Reuters article mentioned above, the Texas state government estimates that 1500 cattle were killed. An economist at Texas A&M estimates that it could take $6 million dollars to recover from the acreage burned in Texas, in addition to more than $4 million dollars to replace destroyed fencing. The states of Texas, Oklahoma, and Kansas have declared states of emergencies in response to the fires.