Louisiana Governor: 'Historic' Flooding is Being Ignored
,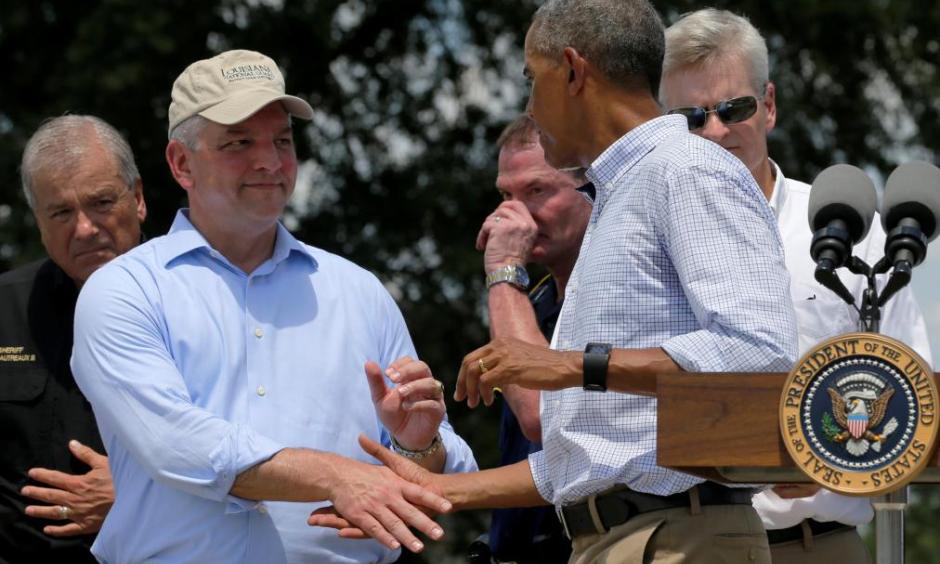 The devastating flooding in Louisiana is the worst natural disaster to hit the U.S. since Superstorm Sandy four years ago. Yet extensive floods in the southeastern part of the state have received a fraction of the attention of Sandy despite the fact that tens of thousands of residents have been left homeless and 13 were killed after an estimated 6.9 trillion gallons of water fell across Louisiana between Aug. 8 and 14. Twenty parishes have been declared federal disaster areas...
...John Bel Edwards, the state's democratic governor. Edwards spoke with TIME on Tuesday about the president's visit, the long recovery ahead, and how he believes the disaster is actually helping Louisiana heal following the death of Alton Sterling, who was killed by police earlier this summer.
...
Everyone remembers the images of Hurricane Katrina and the thousands left homeless. How does this compare?
In terms of the disaster itself, there are similarities. We literally had nine weather stations that reported more than 21 inches of rain in a 48-hour period. The climatologists for the state of Louisiana say that the probability of that type of rainfall happening in any given year is 1 in 1,000. So this is literally a thousand-year rain event and flood event where we had rivers and creeks, canals and bayous, at record levels.
Do you believe the flooding is due to climate change?
We all have our own sneaking suspicions. I will tell you that if these types of extreme weather events continue to happen with the frequency that we've seen recently over the next few years, I think that's about the only thing that explains it.
When people talk about Katrina, they remember the slow response and lack of coordination from the Federal Emergency Management Agency. How would you rate FEMA's response this time?
It's still a bureaucracy. Things still move slower. They still tell you no quite often when you ask for assistance because they can't do things that their lawyers tell them are outside of their authority. But the coordination has been much, much better. There are a lot of good employees at FEMA, and I believe since Katrina, the laws have changed to give them a little more flexibility so they can be more responsive