Low humidity, difficult terrain hamper Soberanes fire fight



 United States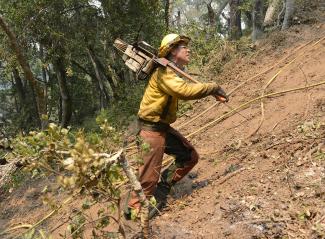 Low humidity and steep, inaccessible terrain continued Monday to challenge the thousands of firefighters battling the Soberanes fire, a deadly blaze that threatens 2,000 homes and structures north of Big Sur.
The fire, which has been raging for more than 10 days, had burned 40,700 acres and was only 18% contained as of Monday evening, according to the California Department of Forestry and Fire Protection.
"The fire is continuing to eat at acreage; it's still chipping away," said Bennet Milloy, a Cal Fire spokesman.
The blaze has caused smoky conditions for those near Monterey Bay, and air quality concerns across the San Francisco Bay Area.
Just over a quarter of the fire is in the Monterey Ranger District of Los Padres National Forest, and about 28,000 acres were burning in state-controlled land, including state parks and private property, Milloy said