Maria Back Over Water After Devastating Hit to Puerto Rico
by
Weather Underground | Category 6
,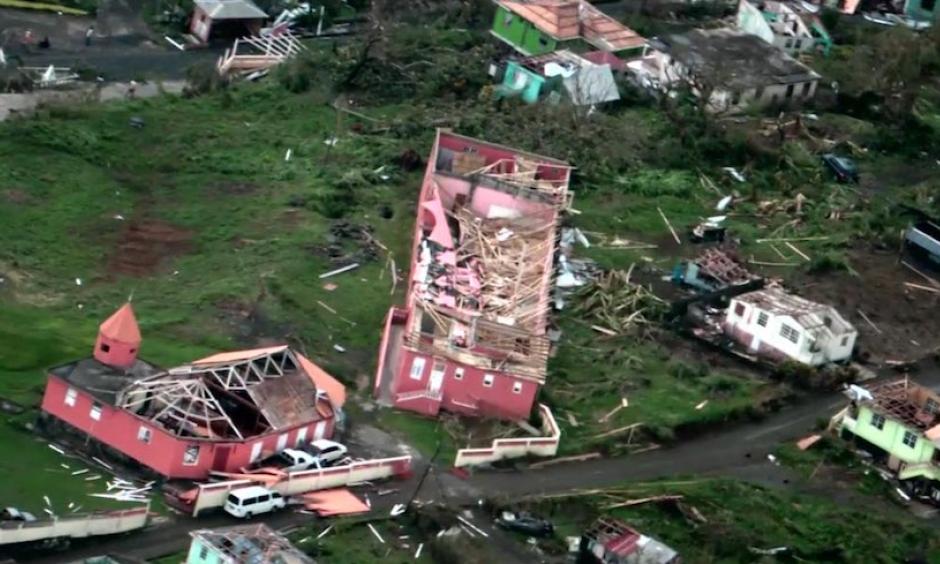 After making landfall in southeast Puerto Rico near 6:15 am Wednesday as a top-end Category 4 storm with 155 mph winds, Hurricane Maria finished a devastating pummeling of the island near 1:30 pm, when its eye emerged over the ocean off the northwest coast. An Air Force hurricane hunter aircraft found that Maria's 70-mile traverse of Puerto Rico had knocked the top winds of the storm down to 110 mph by 5 pm Wednesday, making it a high-end Category 2 hurricane. Satellite images show the hurricane is still well-organized, though, and the Hurricane Hunters found that Maria's pressure was falling again late Wednesday afternoon: 957 mb at 5 pm, compared to a 961 mb reading at 2 pm. Maria will continue to bring dangerous torrential rains and powerful winds to Puerto Rico and the eastern Dominican Republic into Thursday.
Maria brought extreme rainfall amounts to large portions of Puerto Rico that caused record or near-record flash flooding. Numerous stations in Puerto Rico recorded rainfall amounts in excess of ten inches. Rainfall amounts in excess of 47 inches in 24 hours were recorded at three stations on the southwest side of El Yunque, the high mountainous area in the northeast corner of Puerto Rico; these are so extreme as to be unbelievable, and the gauges may have been impacted by flash flooding, or by a callibration problem at extreme precipitaion rates:
96.65" at Quebrada Arenas, including 67.75" in one hour ending at 6 am.
72.07" at Barrio Montones, including 34.04" in one hour ending at 8:45 am.
47.25" at Rio Valenciano, including 19.66" in one hour ending at 7:11 am.
These rainfall amounts would break virtually every world record for precipitation, and are highly likely to be in error. Water levels at the Rio Gurabo at Gurabo, where the nearby Gurabo Abajo rain gauge recorded 23.64" of rain in less than 24 hours, jumped by 27 feet in less than 12 hours (see Figure 2), so that rainfall amount is believable.