Maria Pulling Away From North Carolina; Lee a Major Hurricane
Outer Banks, Kinnakeet, NC
by
Weather Underground | Category 6
,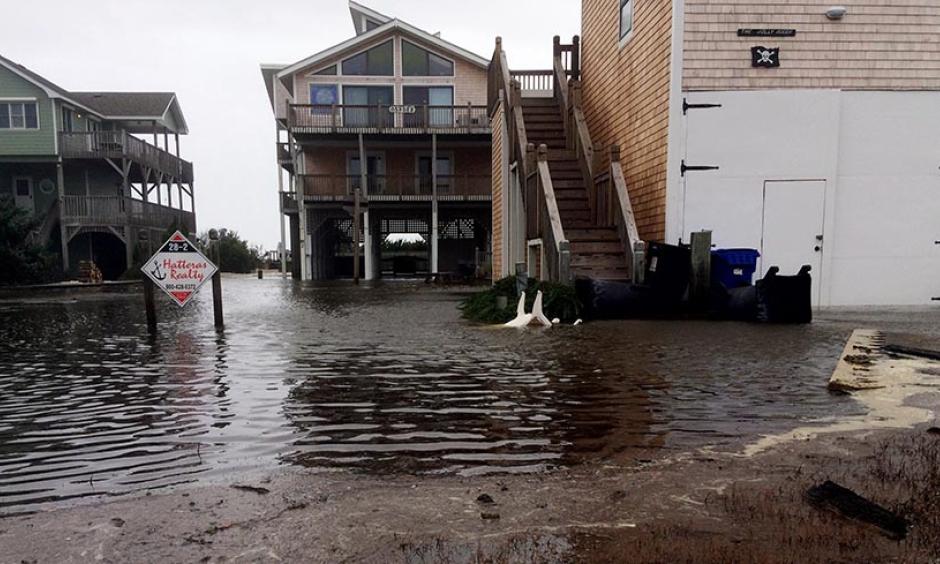 Tropical Storm Warnings and Storm Surge Warnings continued for much of North Carolina's Outer Banks on Wednesday as Hurricane Maria—bumped back up from tropical-storm status at 11 am EDT Wednesday—began to slowly pull away from the coast. Maria's center came within 155 miles of Cape Hatteras, NC early Wednesday morning, but the storm had begun angling away from the coast at 6 mph, to the north-northeast, as of 11 am EDT Wednesday. Maria brought winds near minimal tropical storm-force along the Outer Banks early Wednesday morning. The highest winds observed on Wednesday morning at the USCG station at Cape Hatteras, NC were 39 mph, gusting to 47 mph, at 12:36 am EDT. The Diamond Shoals buoy located 15 miles southeast of Cape Hatteras had peak sustained winds of 42 mph, gusting to 51 mph, at 2:50 am EDT. An observing site at Jennette's Pier in Nags Head, North Carolina, measured a sustained wind of 43 mph, gusting to 51 mph, late Wednesday morning.
According to the NOAA Tides and Currents Quicklook page for Maria, a peak storm surge of 2.8' was observed at Cape Hatteras, NC near 2 am EDT Wednesday; the highest surge at Duck, NC was 2.0' near 3 am. Storm surge heights of 1.5 – 2.0' were observed Wednesday morning along the Virginia coast near Norfolk. Wednesday morning's high water levels resulted in some overwash of NC 12, the only road into or out of the Hatteras-Ocracoke section of the Outer Banks.
Satellite imagery on Wednesday showed that Maria was a large and sloppy-looking storm, with its heavy thunderstorm activity confined to the east side of the center, away from where strong upper-level winds of 15 – 20 knots out of the northwest were shearing the storm.
...
Lee joins the majors
After nudging ever closer to Category 3 strength for almost a day, Hurricane Lee finally made the cut on Wednesday morning. Lee's top sustained winds were 115 mph at 11 am EDT, making it a low-end Cat 3 storm. Lee is this year's fifth major hurricane in the Atlantic, after Harvey, Irma, Jose, and Maria. Those four predecessors all hit Category 4 or 5 strength, and all of them but Jose proved to be devastating, multi-billion-dollar storms. Fortunately, Lee is flexing its muscle far from land in the central North Atlantic, close to 500 miles east-southeast of Bermuda.