Massive Flooding Continues in Louisiana
,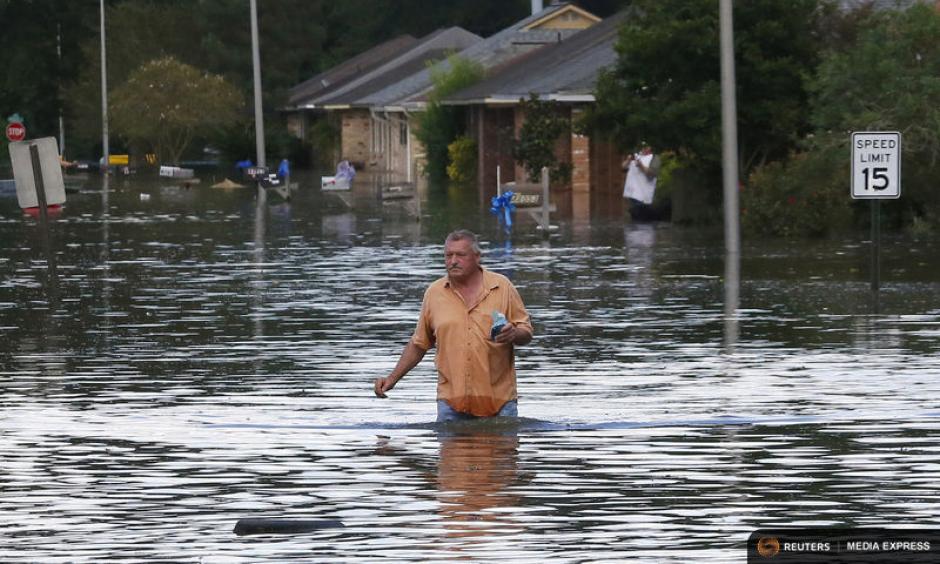 Catastrophic flooding continues in south central Louisiana after days of often torrential rain. Water remains several feet above flood stage along many waterways, as an estimated 40,000 homes have been affected by the floods.
In a statement, the Red Cross said the ongoing flooding is "likely the worst natural disaster since Sandy in 2012." The relief organization expects that the cost of its response efforts will exceed $30 million.
Several areas will remain flooded into next week, as the water will be very slow to recede. The Vermillion River in Lafayette is expected to hold at major flood stage until Monday morning, and the Mermentau River just west of Lafayette is forecast to be 6 to 7 feet above flood stage until at least Monday night.
Adding insult to injury, Baton Rouge had another 3.81 inches of rain dumped on it in just six hours on Wednesday, with 2.3 inches coming in just one hour. This brings the total August rainfall to 25.92 inches, which is easily the wettest calendar month since records began there in 1892, and the month is only halfway through. Only five months have brought more than 20 inches of rain to the city.
Wettest Months in Baton Rouge (inches)
August 2016: 25.92*
May 1907: 23.73
June 1989: 23.18
June 2001: 21.36
November 1919: 20.24
*Data through August 17 from National Weather Service New Orleans/Baton Rouge.

Of the rain so far this month in Baton Rouge, more than 2 feet (24.27 inches) fell in only eight days (Aug. 10-17). That's nearly half the 53.4-inch annual average rainfall for the city, all in just three weeks.
While precise rainfall amounts are dependent on storm conditions on a smaller scale, a warming atmosphere does allow for more evaporation of water into storms. In turn, this can lead to heavier precipitation. For each degree Celsius (1.8°F) of surface warming, the rate of precipitation can increase by 6 to 8 percent.
Temperature calculations for this year are still incomplete, but through July, Louisiana is having its 17th hottest year on record. With records going back to 1895, this puts it in the hottest 15 percent of years so far. More specific to Baton Rouge, three of its five hottest years on record have happened since 2006.
Average Annual Temperature (°F)
1925: 70.0
2012: 69.9
1990: 69.9
2006: 69.5
2007: 69.4
While this level of flooding is extraordinary, more heat and heavy rain are to be expected, as the burning of fossil fuels will continue to add greenhouse gases to the atmosphere. Consequently, this makes the chance of such extreme events more common than in years past