A massive, historic high-pressure zone is bringing freakishly nice weather to Alaska
,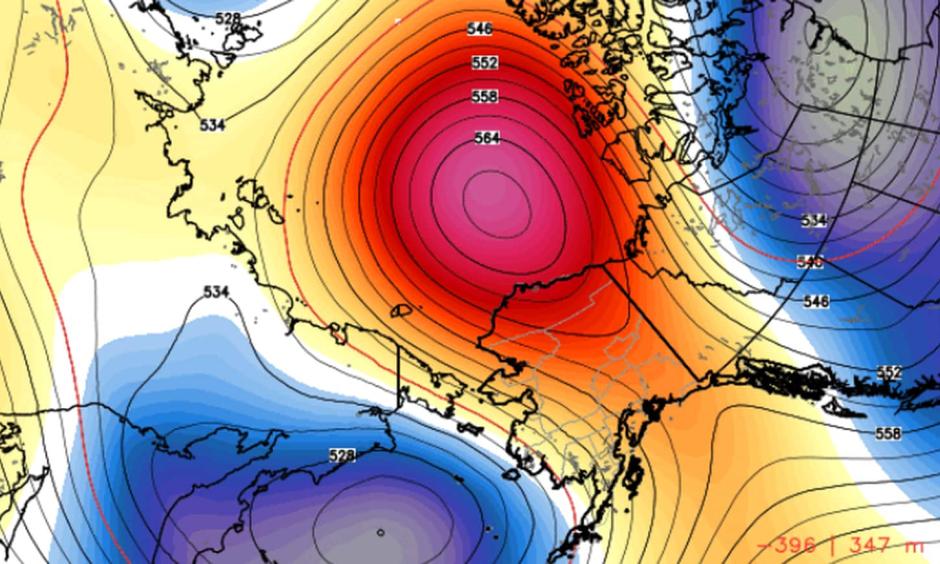 Alaska is experiencing some of the sunniest, warmest and driest early fall weather it has ever seen. In Anchorage, for example, temperatures have remained above normal for 32 straight days, and it's hardly rained.
...
The cause is a massive area of high pressure at high altitudes, also known as a ridge, which formed over the Bering Sea in early September and drifted eastward, sprawling over the 49th state. Outside of winter, such intense high-pressure cells are synonymous with heat as they cause the air to sink, compress and warm.
Scientists who study the region's weather have never seen a high-pressure zone like this one. "On a 2-3 week time scale, the recent ridge over the Bering Sea was one of the most intense on record, anywhere in the world, when compared to the usual climate of the region," tweeted Richard James, a meteorologist who has documented the event on his blog.
On Saturday afternoon, Fairbanks's pressure about three miles high reached its greatest intensity on record so late in the year, James wrote.
Because the oceans have warmed over the region where this high-pressure zone has formed, its strength is probably connected to climate change.
...
Unusually warm, dry and sunny weather has not been confined to Anchorage, which notched its warmest September on record, but has appeared in many other parts of Alaska and eastern Siberia:
Fairbanks posted warmer than normal temperatures for the last 20 days of September, and Nome for the last 22 days.
On Sunday, King Salmon hit 71 degrees, its warmest temperature so late in the season.
Bethel, Alaska, failed to observe any low temperatures below freezing in September for only the fourth time on record.
Chukotka, Siberia, posted its warmest September on record, with an average temperature nearly 11 degrees above normal, tweeted Francois Jobard, a meteorologist in Paris.
...
The abnormally warm ocean waters are probably linked to a loss of sea ice in the region, which has occurred as the region's climate has warmed. The National Oceanic and Atmospheric Administration announced Monday that Arctic sea ice reached its annual minimum Sept. 23, tied for the sixth-lowest on record. Last spring, sea ice levels in the Bering Sea had fallen to their lowest level on record as enormous pulses of heat surged into the region.
...
More generally, as global temperatures have risen, so have atmospheric pressures. So what's happening in Alaska is consistent with long-term trends.