Matthew Flings All-Time Surge and Rainfall Records Across Southeast



 United States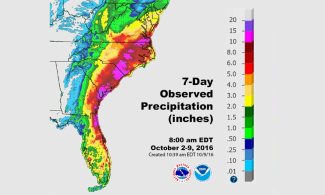 At least 16 U.S. deaths have been reported, and insured damage is expected to total at least $4 billion.
Major storm surge was reported as far north as the Hampton Roads area of southeast Virginia, which received an unexpectedly powerful blow from Matthew that also included tropical-storm-strength sustained winds
Three tide gauges with long-term historical records along this stretch of coast set all-time records on Friday through Sunday for their highest water level (also called the storm tide, or the water level measured relative to high tide, MHHW):

Fort Pulaski, Georgia: 5.06'
Previous record: 3.40' during the October 15, 1947 hurricane (records since 1935.)

Wilmington, NC: 3.53'
Previous record 3.47', during Hurricane Hazel on October 15, 1954 (records since 1935.)
Matthew ended up generating torrential rain near the Southeast coast, as predicted, but it also produced record-smashing rainfall well inland and considerably further north than expected, especially over North Carolina and southeast Virginia.

Here are the highest storm totals observed in each state along Matthew's path as of 11 am EDT Sunday:

Florida: 7.89", Sanford/Orlando
Georgia: 17.49", Savannah/Hunter Army Air Field
South Carolina: 14.04", Beaufort MCAS
North Carolina: 15.65", William O. Huske Locke 3
Virginia: 12.84", 10 miles northwest of Chesapeake
Maryland: 5.52", 6 miles south of Berlin
Delaware: 3.13", Seaford
From Friday into Saturday, Savannah International Airport broke the city's official 24-hour rainfall record of 11.44" on Sept. 17-18, 1928, according to WU weather historian Christopher Burt. It's quite possible that an even higher 24-hour reading will be confirmed from one of the other Savannah-area reporting stations, as suggested by the storm total above.

Norfolk, VA, received 7.44" of rain on Saturday, making it the city's wettest October day on record (beating 6.23" from October 17, 1999). Little more than three months ago, Norfolk set its all-time July calendar-day rainfall record with 6.98" on the 31st.

Raleigh-Durham International Airport picked up 6.45" on Saturday, beating the area's previous all-time calendar-day rainfall record of 5.96" set on October 1, 1929. Raleigh-area records extend back to 1887.

Perhaps the single most phenomenal record on Saturday was at Fayetteville, NC, where 14.00" of rain was reported on Saturday. This demolished the city's previous all-time calendar-day record of 6.80" observed during Hurricane Floyd on September 16, 1999. In fact, there are only four entire months in Fayetteville weather history that have received more rain than Fayetteville picked up in 24 hours on Saturday! Fayetteville records extend back to 1871. The flooding situation in the Fayetteville area was made even worse by very heavy rains observed in parts of the area during late September.
Several locations along Matthew's path through the Southeast recorded incredibly high amounts of atmospheric moisture on Friday and Saturday. At least two sites had record amounts of precipitable water (the total amount of liquid water that would cover the ground over a given location if all the moisture in a column of air above was condensed).

Jacksonville, FL: 2.85" at 8 pm EDT Friday
Previous record: 2.82" on July 20, 1983

Charleston, SC: 2.93" at 2 am EDT Saturday (special sounding)
Previous record: 2.70" on August 15, 2010
Intensity: Matthew was the lowest-latitude Category 5 hurricane on record in the Atlantic. Its strengthening of 80 mph in just 24 hours was the third fastest on record for the Atlantic, behind only Wilma (2005) and Felix (2007).

Longevity: Matthew maintained Category 4 or 5 strength for 102 hours, the longest such stretch on record for October in the Atlantic. Its 7.25 days as a major storm (Category 3 or stronger) is the fifth longest such period for any hurricane since satellite observations began in the Atlantic in 1966.

Landfall: Matthew is the first storm on record to make landfall as a major hurricane in Haiti, Cuba, and the Bahamas. Since 1866, the only two hurricanes to strike the Bahamas at Category 4 strength are Matthew and last year's Joaquin. Matthew's landfall near Myrtle Beach made it the first hurricane to strike the U.S. Atlantic coast north of Georgia in October since Hazel (1954)