Matthew's flooding surprised forecasters



 United States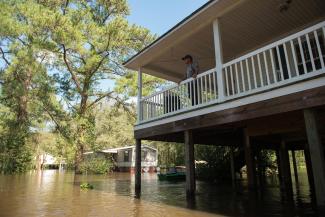 Forecasters, even those paying close attention to the progress of Hurricane Matthew, were unprepared for the amount of flooding that hit the region with the Oct. 8 storm.
That was one of several conclusions in the National Oceanic and Atmospheric Administration's final report on Hurricane Matthew. The report on the 2016 storm was released Wednesday.
In the report, NOAA looked at how well forecasting predicted the storm's path and potential effects. The report also recounted death and damage for each state affected by Matthew.
"Communicating the extreme threat posed by Matthew was a monumental task for the National Weather Service," the NOAA report said. "The service assessment team found that NWS staff performed exceptionally and professionally ... in the face of such a dangerous and historic situation."
North Carolina, the report noted, suffered more loss of life than all other states combined with 25. Overall, the storm killed 34 in the United States. Of the 25 deaths in North Carolina, 24 were flood related and 19 came from people either walking or driving into floodwaters and being swept away. Three people died in Lenoir County, one while trying to rescue a horse from floodwater, another who drove a car around a barricade blocking a flooded road and another who drowned in a shed. No deaths were reported in Craven County.
Record or near-record flooding was reported along the Neuse River, impacting areas of western Craven County as well as areas in Kinston and Goldsboro.
In all, North Carolina had $1.1 billion in damage, and East Coast damage was estimated at $10.1 billion.
As a rule, cooperation between agencies handling storm prediction was solid, the report found.
"Many NWS partners expressed that they could not have carried out their mission as effectively without the support received, both at the local and national levels," the report said. "NWS offices faced several challenges during the event, including staff shortages, deployment fatigue, and the need to integrate a large variety of weather and hydrology data into consolidated briefings and messages."