More Record Heat Invading the U.S. as Cleanup From Rare February Tornadoes Begins
,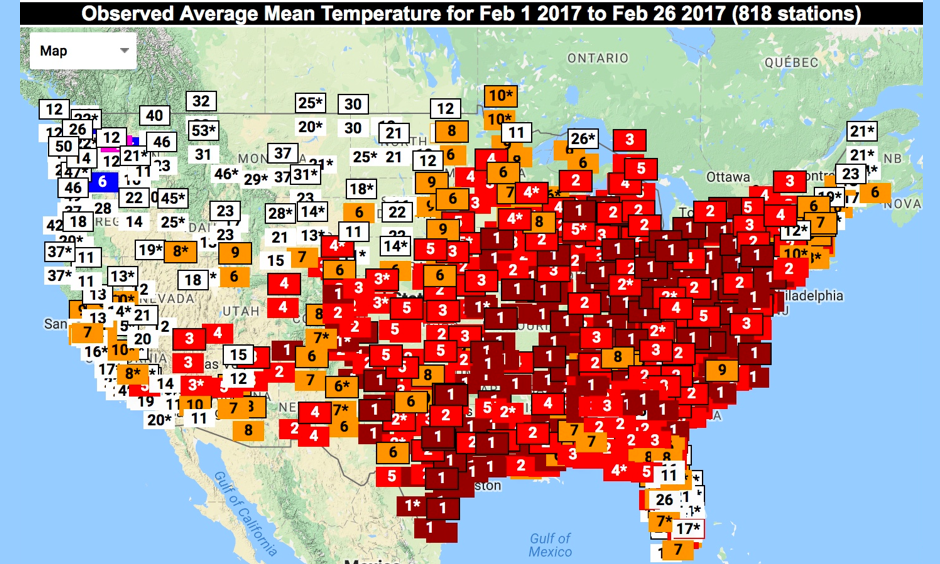 Record warmth slathered the Northeast on Friday and Saturday, the latest chapter in a phenomenal sequence of unseasonal mildness during the last half of February. As of Monday morning, NOAA's U.S. Records site had catalogued 5857 daily record highs for the month, with only 95 daily record lows. Most of the record lows have occurred across the western U.S., whereas the bulk of record warmth has been east of the Rockies. The warmth has been even more impressive when you look at the ratio of monthly records: 408 record monthly highs thus far, versus just one record monthly low.

Our pick for the most astounding single report of the weekend comes from Vermont's largest city, Burlington, which soared to 72°F on Saturday afternoon. This broke multiple records by incredible margins:

Previous daily record high: 55°F (broken by 8 AM EST Sat!)
Previous monthly record high: 63°F, set on Thursday, Feb. 23 (which had broken the longstanding record of 62°F from Feb. 19, 1981)
Previous high for any winter month: 68°F on Dec. 24, 2015

The reading also tied Vermont's state record high for February, which had been set in Bennington just a day earlier. New Hampshire also set a state record on Friday with 73°F in Nashua, according to WU weather historian Christopher Burt. Other all-time state records for February set this month include Oklahoma (99°F at Magnum on Feb. 11) and Wisconsin (72°F at Janesville and Boscobel on Feb. 22, with multiple stations breaking the previous state record of 69°F).