Much-needed fire relief in North Bay today, but new ridge and record SoCal heat on the way
,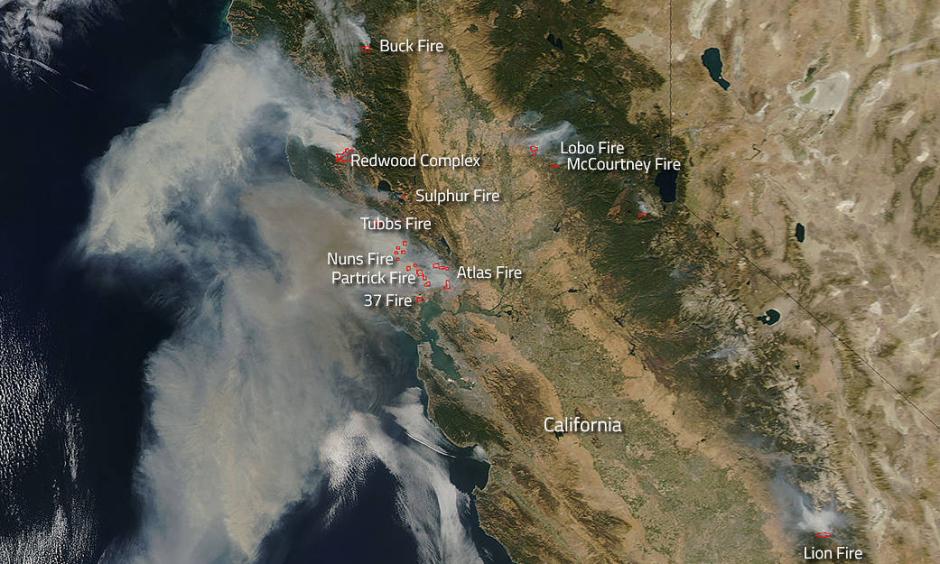 October 2017 will be a month not soon forgotten by many thousands of California residents living in the coastal counties just north of San Francisco. Late in the evening on October 8th, a cluster of extremely fast-moving, wind-driven wildfiresroared across Sonoma, Napa, and Mendocino counties (as well as Butte County further north and east)–together burning well over 200,000 acres, destroying nearly 6,000 structures, and claiming the lives of at least 42 people.
Collectively, this wildfire outbreak has become both the deadliest and most destructive wildfire outbreak in California history, eclipsing even the 1991 Tunnel Fire in the Oakland Hillsand the 2003 Cedar Fire in San Diego County. As of 10/19, most of these fires continued to burn, though containment has risen considerably and the risk of further risk to lives and property has diminished greatly.
Why were the October 8th fires so incredibly devastating, even in the context of California's long history of large and frequent wildfires? Several key factors unfortunately converged in the North Bay during this extraordinary event. Perhaps most obvious: the development of very strong and bone-dry land to sea "Diablo Winds" over Napa and Sonoma Counties.
...
Also contributing to the magnitude of the North Bay fire disaster was the proximity of fairly densely populated suburban neighborhoods to a large region of tinder-dry mixed forest and brush.
...
Finally, there is also the long-term climate context to consider. California just experienced its record-hottest summer, and the fire areas in particular suffered through one of the hottest autumn heatwaves on record back in early September. As the National Weather Service warned just hours before the fires broke out, vegetation moisture levels in the Bay Area had dropped to record-low values due to the extraordinary warmth over the past few months. This occurred despite a very wet winter across the Bay Area, which may have (somewhat counterintuitively) also contributed to increased fire risk by increasing the amount of dry grass and brush that grew during the spring months and ultimately dried out during the record heat this summer. Finally, as others have also pointed out, the legacy of California's record-breaking multi-year drought is still being felt in California's forested regions, where many trees remain drought-stressed and where tree mortality remains widespread. Thus, there is a strong argument to be made that the confluence of a wet winter (which enhanced the "flashy," combustable fuels), the record-hot summer (which dried out vegetation to record levels), and the recent severe drought (which stressed trees to their limits) set the stage for the tragic events which have recently unfolded across Northern California.