Nate Sweeps Across U.S. Gulf Coast
,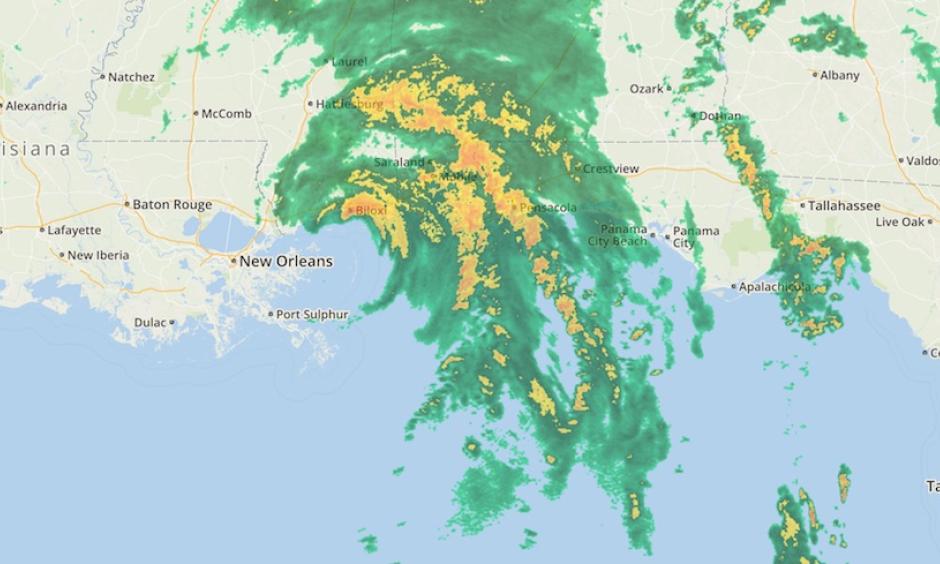 Hurricane Nate made its first U.S. landfall near the mouth of the Mississippi River at around 7 pm CDT Saturday as a Category 1 hurricane. Packing top sustained winds of 85 mph, Nate pushed a compact zone of strong wind and torrential rain onshore across coastal Mississippi and Alabama, just east of its center. Fortunately, Nate never developed a complete, mature eyewall. Had that happened on Friday night, Nate could have rapidly strengthened well into the Category 2 intensity range. Nate is the ninth consecutive Atlantic hurricane of 2017—the most Atlantic hurricanes to occur in a row since 1893. Nate is also the fourth hurricane to reach U.S. shores in the last seven weeks, including Maria's catastrophic landfall on Puerto Rico as the devastating hits from Harvey in Texas and Irma in Florida. (See our Saturday morning post for more on this hyperactive Atlantic hurricane season.)
At 10 pm CDT Saturday, Nate's broad eye was moving north at 20 miles an hour, centered about 35 miles south-southwest of Biloxi, MS. Nate's northern eyewall pushed across the Mississippi and Alabama coasts between 10 and 11 pm CDT. Overall, surface winds in this northern eyewall remained well below hurricane strength. At 10 pm CDT, Kessler Air Force Base in Biloxi reported heavy rain with sustained east winds of 35 mph, gusting to 43—still below tropical storm strength. A gust to 56 mph was recorded at 7:48 pm CDT at Dauphin Island, LA.
Nate's storm surge pushed onshore Saturday night just as water levels were approaching high tide, and water levels were rising quickly at several locations along the Mississippi and Alabama coast just before midnight CDT. The surge was entering the lobby of at least one coastal casino in Biloxi. Among the highest surge reports through midnight Saturday night on the NOAA Tides & Currents QuickLook page for Nate:

Shell Beach, LA: 4.8'
New Canal Station, LA: 2.9'
Pilottown, LA: 2.9'
Pascagoula, MS: 3.2'
Waveland, MS: 4.5'
Dauphin Island, AL: 3.0'
Mobile, AL (Coast Guard Station): 4.8'
Pensacola, FL: 2.7'
Panama City, FL: 2.3'