New Caledonians take shelter as Cyclone Donna bears down
,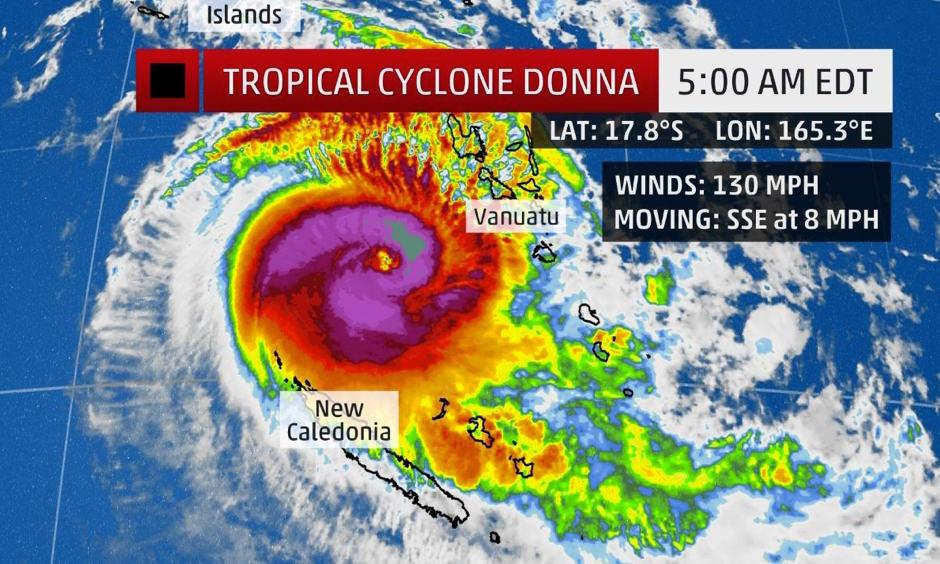 A cyclone bearing down on New Caledonia in the South Pacific was upgraded on Monday to a category five storm, the most destructive wind-speed level, prompting local authorities to order people to stay indoors and take shelter.
Gusts close to the center of Cyclone Donna were estimated to be as strong as 300 km per hour (186 mph), according to the Vanuatu Meteorology and Geo-hazards department, with the storm projected to make landfall late on Tuesday.
...
The storm has whipped up huge swells in the Coral Sea, with the center roughly 200 km north of New Caledonia, and 350 km west of the Vanuatu capital, Port Vila. It was moving southeast at about 12 km (7.5 miles)per hour.
Schools in New Caledonia were closed for a public holiday on Monday and would stay shut on Tuesday. Domestic flights in New Caledonia and further north in Vanuatu have been canceled.
Over the weekend the storm skirted to the west of Vanuatu, sparing the most heavily populated islands from any significant damage.
...
Donna is the third late-season cyclone to sweep through the Pacific, after storms called Debbie and Cook pounded Australia and New Zealand.
Stephen Meke, a senior forecaster at the Fiji Meteorological Service told Reuters it was "very unusual" to see such a powerful storm well after the summer months have passed, but there was not enough information to determine if climate change was a reason.