New Jersey-Size 'Dead Zone' Is Largest Ever in Gulf of Mexico
,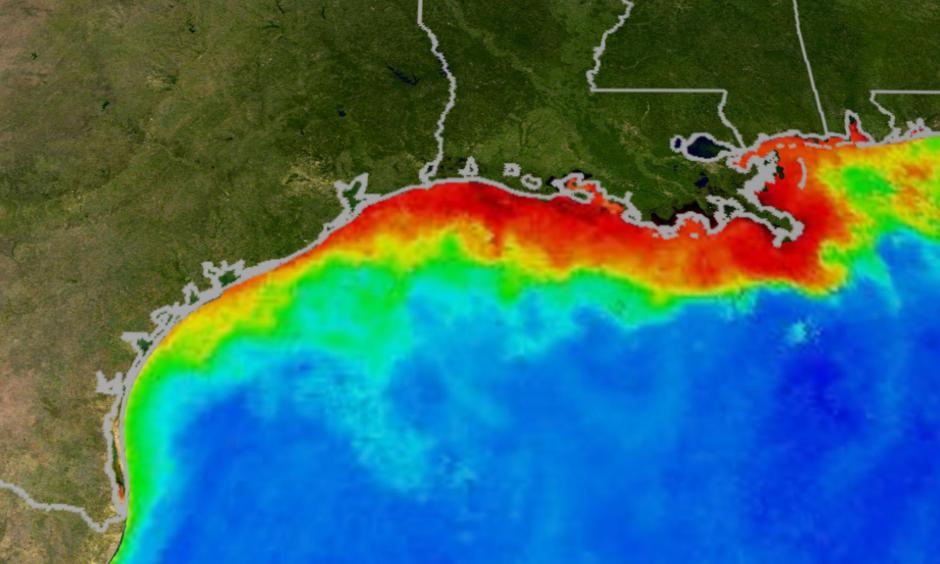 A record-breaking, New Jersey-sized dead zone was measured by scientists in the Gulf of Mexico this week—a sign that water quality in U.S. waterways is worse than expected.
The National Oceanic and Atmospheric Administration (NOAA) announced today that this summer's dead zone is the largest ever recorded, measuring 8,776 miles. This is more expansive than the nearly 8,200 square-mile area that was forecast in July. Since monitoring began 32 years ago, the average size of the Gulf's dead zone measured in at 5,309 square miles.
...
To record the new measurements and assess the severity of low oxygen levels in the Gulf, scientists from the Louisiana Universities Marine Consortium (LUMCON) embarked on their 31st mid-summer hypoxia research cruise in July. Even with reported numbers as large as they are, the team of scientists said the entire area of the dead zone couldn't be mapped due to an insufficient number of workable days on the ship. There was more hypoxia to the west, and the measured size would have been larger if there was more time for researchers to work.
"The results from this year reflect the nitrate flux into the Gulf, which was high," says Nancy Rabalais, a research professor at LUMCON who helped lead the cruise. "It's a matter of addressing the sources of the nitrate—where they first start—which is in a field of agricultural crops."
This year's large size is mainly due to heavy stream flows in May, Rabalais continued, which were about 34 percent above the long-term average and carried higher-than-average amounts of nutrients through Midwest waterways and into the Gulf.
Preliminary reports from the United States Geological Survey (USGS) align with the observation, estimating that 165,000 metric tons of nitrate–about 2,800 train cars of fertilizer—and 22,600 metric tons of phosphorus flowed down the Mississippi and Atchafalaya rivers into the Gulf of Mexico in May.
...
"The Gulf's summer hypoxic zone continues to put important habitats and valuable fisheries under intense stress," says Rob Magnien, director of NOAA's Center for Sponsored Coastal Ocean Research. "Although there is some progress in reducing nutrients, the effects of the dead zone may further threaten the region's coastal economies if current levels remain."
...
"It's very difficult to see how a nitrogen molecule from the upper part of the United States can affect the Upper Gulf of Mexico, I admit that" Rabalais said. "But those same nitrogen concentrations affect the water quality within the watershed elsewhere—in the treatment plants and the well water—and that can cause human health problems and toxic algal blooms, things we definitely don't want."